COVID-19: Changes to Site Facilities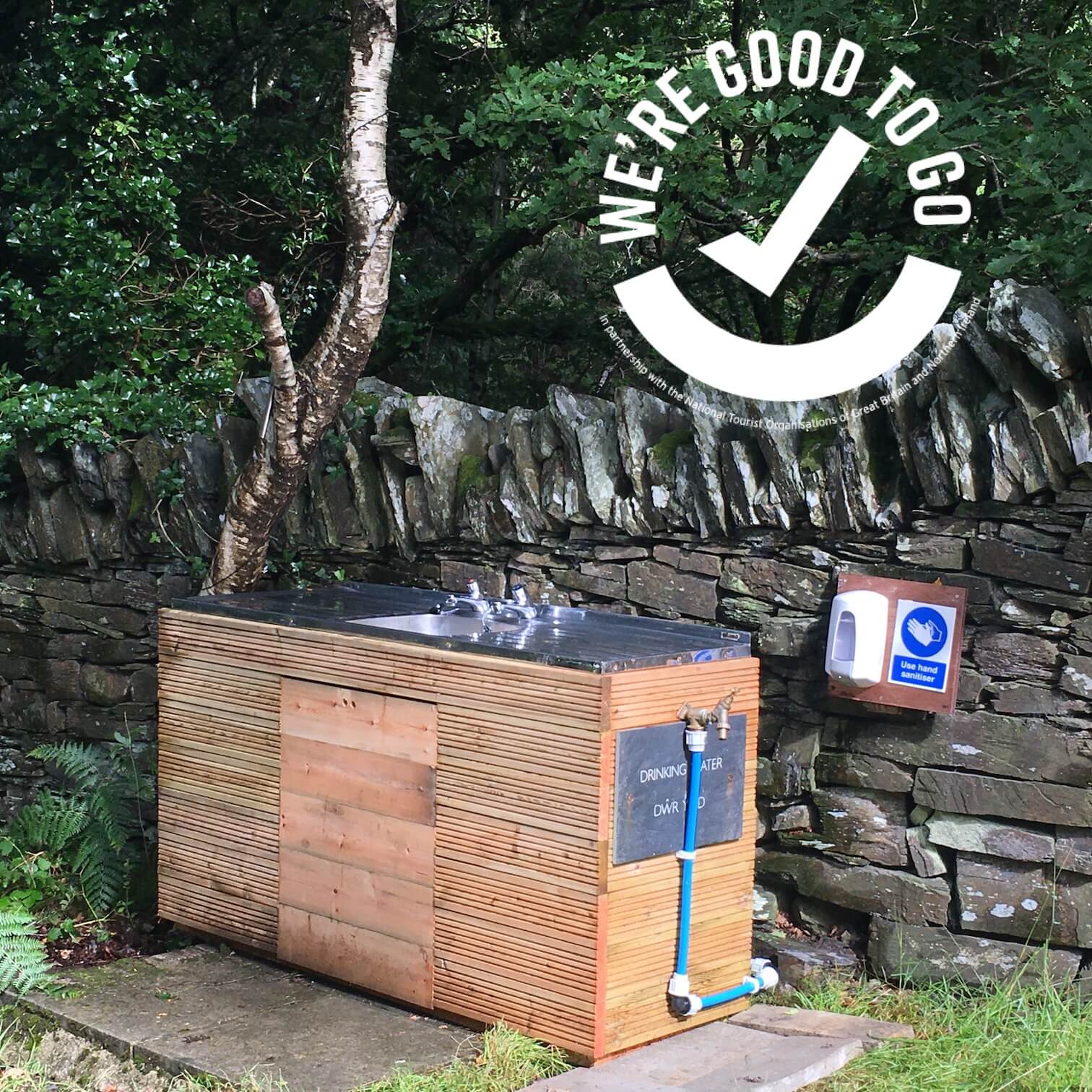 Our Covid secure measures have seen some changes to our facilities at Graig Wen. These worked well during summer 2020 and we had excellent feedback from guests. We plan to continue to operate in this way for the rest of 2022. Please remember here in Wales that masks are required in indoor public spaces such as shops, steam trains and restaurants and that 2 meter local distancing is still in place.
As ever, you have the luxury of space here, with 40 acres of wild Snowdonia woodland, meadows and a stream to enjoy and explore. You can still buy a craft beer and wood for the camp fire, order croissants for breakfast and the beach is just down the road. Parents can keep an eye on kids playing in a natural, wild environment.
New Guest Welcome Guide/App
Our new Guest Welcome Guide/ App is your go to guide for check in and up to date information about local places to eat out/take out, food deliveries, attractions, activities you will need to pre-book, loads of local walking routes etc. The digital guide works off line just like an app if you add the link to your phone home screen. Bookers are emailed the link before arrival for contact-less check in as part of our social distancing measures.We're getting great feedback from guests that the App is really helping guests make the most of their holiday in this time of big changes. Make sure you check the link and download it before your arrival.
Reception we are operating an outdoor pop-up reception at peak times but you can check in contactlessly using your Digital Welcome Guide.
Shop
You can use contactless payment to buy items from our pop-up reception such as firewood, craft beers, wine and soft drinks, maps, marshmallows and other essentials! We have an honesty ice-cream freezer.  You can also order breakfast croissants and fresh morning coffees.
What about Shared Washing Facilities?
For campers and glampers, access to the washing facilities, loos and showers is different this year – read more below.  We have also built more private compost loos and outdoor showers for some of our our yurts.
The shared washing facilities are in use on a unisex, bubble by bubble basis so you will not be sharing at the same time as anyone not in your household. We are cleaning more frequently, especially touch points, and provide anti viral disinfectant spray and disposable, recycled paper towels for use by customers.
Cleanliness is extremely important to us and we take pride in keeping our simple washing facilities sparkling clean. We provide hot water, antibacterial soap, hand sanitiser, disposable hand towels – and plenty of loo roll from sustainable sources! As usual, we aim to keep our washing facilities spotless and are cleaning and disinfecting them regularly. Please help us by using the cleaning materials provided after you use shared facilities.
We're pleased to have attained "We're Good to Go" status – the industry standard to show we have followed Welsh Government public health guidance, carried out a COVID-19 risk assessment and have robust processes in place.
If you have your own on board facilities we encourage you to use them. If you have a camping loo and shower then you are welcome to bring them. There is room for a toilet tent by your pitch and we have a toilet chemical disposal point. Please do not use wipes in the toilets as these will block our drains which is unpleasant for everyone!
Thanks for helping us keep the site clean and hygienic for everyone!
Our site meanders across 40 acres of woods and meadows so varying facilities are located in different areas. You can find our Site Map here.
Facilities on the upper touring site
(close to around half a dozen caravan and motorhome pitches with a couple of places for tents (and Idris yurt in winter location)
Loos on Touring Site
The wash block with conventional WCs and wash basins will be in use on a unisex basis
One bubble at a time may use either the Ladies or the Gents (there are 2 WCs and 2 wash basins in each)
There is a red and white chain to restrict access to one bubble at a time.
Chain up = engaged. Please queue outside 2 metres apart
Chain down = vacant
Please use the chain to show you are using the washroom and remember to leave it down when you exit.
Showers on Touring Site
One bubble at a time may use the two showers on a unisex basis
There is a red and white chain to restrict access to one bubble at a time.
Chain up = engaged. Chain down = vacant
Please queue 2 metres apart where indicated outside the front of the house.  Do not queue down the narrow path to the showers where social distancing is difficult. During 2020, we noticed that there were actually very few people having to queue for more than a minute or two at peak times.
Other facilities on the touring site:
Electrical hook up points
Hardstanding pitches
Free wifi by Honesty Shop
Drinking water taps using filtered water from a natural spring
Free use of Fridge freezer for re-freezing ice packs
Chemical Toilet Disposal Point
Refuse and recycling point
Facilities for Glampers in the Glade (within 50 metres):
(For guests in large yurt, small yurt, Tommy yurt and Jones the Hut)
The Large yurt and shepherd's hut have a private compost loo and shower.
Tommy and the small yurt have access to the hot showers and conventional loos/washblock on the touring site 150 metres away. Access is on a unisex, bubble basis.
All our Glamping guests can use the shared facilities on the touring site.
Other facilities in the glade:
Drinking water tap with filtered water from a natural spring
outdoor washing up sink
Firepit by each accommodation
Parking for one car next to each accommodation
Fridge / freezer block access
Facilities for Tent campers
If you're camping on the tent fields be prepared for a bit of walk around our up and down site to facilities. It's a steepish walk back up the hill to the other facilities on the touring site. 
Showers on Tent Camping Fields
One bubble at a time may use the two showers on a unisex basis
Compost Loos on Tent Camping Fields
As usual, these are open on a unisex basis.  Children must be monitored.
Washing Up on Tent Camping Fields
There is an outdoor washing up sink by the Tree Bog/Showers and another in the family fields (cold water). Please wash up at your own pitch if you can.
Other facilities for tent campers:
drinking water tap with filtered water from our spring
Stone camp fire pit by each pit
3 pitches you can park one car next to, one car parking space per pitch for all other cars in car park (arrive 2 – 4pm for lift for your kit to your pitch on our off road vehicle)
Refuse and recycling point
Access to all facilities on upper touring site via a walk up our steepish track
Access to freezer for ice packs, free wifi, charging devices (NOT PHONES) (£1) in reception
Other Facilities
pre-order breakfast croissants on site
pub within 30 minutes bike ride along estuary trail
BBQs allowed – logs for sale on site
some touring van site pitches have TV reception for those with digital TV and aerials
mobile phone reception (except for 02 users)
free wifi access near reception
bus from site entrance to local town shops or beach
bike hire locally from Dolgellau, Barmouth and Coed y Brenin
shops and launderette within 2 miles. Cafes and supermarkets within 5 miles.
pop-up reception selling local ales, maps etc
No children's playground but loads of natural space and a stream on lower fields for supervised exploring
starry skies and birdsong