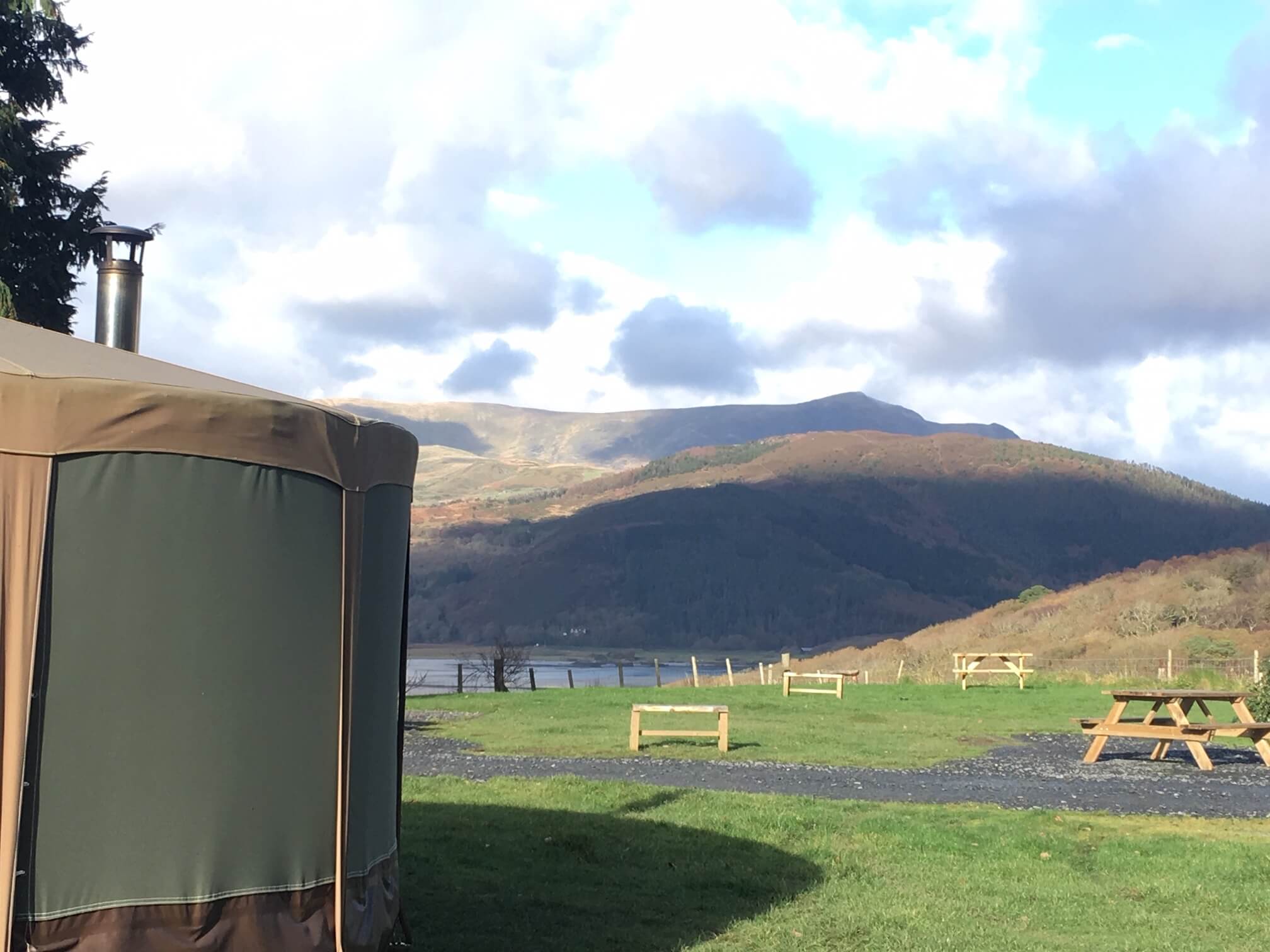 Idris is one of our two pop-up glamping yurts in Snowdonia National Park, North Wales. Idris sleeps up to 4 people and is the pop-up yurt to book if you fancy some winter glamping or or wild glamping in summer. Check out our Late Deals page for special offers and please make sure you are aware of which location you are booking depending on the time of year. You can see the different locations of Idris for winter glamping and wild glamping on our Site Maps page – but do feel free to call and check before booking.
Winter glamping
From October until January and again from March until the end of April, Idris is sited close to the hot showers and heated wash block of the top site along with a few camper vans and caravans. There are panoramic views of the Mawddach Estuary from the nearby communal benches.
You can park by the yurt in its winter location and check in time is flexible. Idris has additional insulation and a wooden front door to help keep in the warmth from the woodburner and radiator. Winter glampers benefit from electricity to boil a kettle and cook and for additional heating and lighting. In the winter location the kitchen shelter is removed due to high winds, and there's an electric hob to cook inside the yurt instead. For evenings star-gazing, you can gather around the fire bowl outside which you can also use to BBQ.
Whether it's cold and crisp or wet and wild outside, come properly prepared and you'll be warm and cosy by the woodburner after some walking, biking or star-gazing. Check out our tips for winter glamping below.
What's in the yurt?
Idris comes kitted out with a proper double bed with a quality extra thick mattress and two single sofa beds. Stay cosy inside by the wood burning stove or star-gaze outside around a fire-pit. The yurt is on a beautiful wooden base made by local craftsman Dan and there is bespoke furniture, floor rugs, and warm Welsh tapestry blankets and sheep skins on the beds. All your cooking utensils, plates, cutlery etc are provided along with the electric cooker hob for whipping up simple meals.
Just bring your own double bedding or sleeping bags, towels and food and enjoy a very special corner of Snowdonia National Park…
Travelling light
The pop-up yurt is perfect if you fancy travelling light and trying a car-free holiday. It's easy to get to Graig Wen and get around on public transport. Bike hire is available locally and we can arrange to collect you from the local train station at Morfa Mawddach. You can pre-order a breakfast hamper or freshly baked croissants.
What we provide and what you should bring
Prior to your arrival you will be emailed a link to download our new Guest App. This will enable you to self-check in and gives you all the information you need to plan your stay, from what to bring and the wifi code to the best places for coffee and cake, local walks etc.
In the yurt
Proper double bed and two single pull-out chair beds (please bring your own sleeping bags/bedding and pillows)
Wood burning stove – we provide basket of logs, kindling and firelighters – more for sale on siteElectric 2 ring gas hob
Hot water bottles
4 blanketsSaucepans, plates, cutlery, mugs, beakers etc for 4 people
Cool box and ice-packs
Waste bin and bin bags
Washing up bowl and washing up liquid and tea towels
Hand sanitiser
Simple lighting but please bring torches
Winter location only – electric kettle, lighting and heater as well as the wood burner

Outside 
Picnic bench
Fire pit
There is also access to a fridge/freezer as well as the cool box in the yurt.
What you should bring
Download your Guest App
Bedding, sleeping bags, pillows etc
Towels
Toiletries
Torches
Warm clothes (it can get cold at night even in summer), suitable footwear for outside and slippers for inside
Insect repellant can be handy in muggy summer weather
Ear plugs and an eye mask if you don't want to wake up with the dawn chorus!
Idris Pop-Up Yurt Prices
PRICES
From £60 – £125 / night
Outside of school holidays minimum 2 night bookings (3 nights on bank holidays)
During school holidays we book the yurts for 3 nights Friday to Monday and 4 nights Monday to Friday.
You can check availability for glamping and book online by searching for availability to arrive on a Friday to stay for 2 or 3 nights or Monday to stay for 2 or 4 nights. Week long bookings run from Friday to Friday – please call to book. We are sorry we do not offer one night stays.
Check prices and availability online or call us on 01341 250482
Tips for glamping in winter and wild Welsh weather!
A few words about what to expect in the colder months
The climate in North Wales during winter can be unpredictable. The first snow on the hills can fall in November and it has been known to snow in April, although we rarely experience much snowfall at Graig Wen as we are near sea level. Temperatures were unpredictable last year, so certainly be prepared for frosty mornings, strong winds and heavy rain!
On the plus side, conditions change quickly and though you might wake up on a wet morning, by the afternoon the hills can be bathed in sunshine, rainbows pop up and you can look forward to a clear night of star-gazing or a moon-lit wander…
The yurt is robust and will keep you dry as the wind roars around on a stormy night, but remember you are in a big tent (albeit with added luxuries including a woodburner!) and will need to pack plenty of warm /waterproof clothing and appropriate footwear.
Bring a sense of adventure and enthusiasm for outdoor life in winter and you will have a memorable experience – if this isn't for you then you might like to consider booking one of our cottages with central heating or an en suite room in The Slate Shed B & B on site instead!
If you are aiming to climb a mountain during your trip, it's always worth having a plan B in case of poor weather conditions. We're very happy to advise on alternative walks and activities and cosy places to refuel afterwards…
What is provided in winter
The yurts have woodburning stoves, an electric heater, warm Welsh rugs, hot water bottles and a fire pit with grill for BBQing outside
There is an electric kettle and plug sockets for charging phones in the yurt.
There is an electric point for plugging in hairdryers in the heated camp site showers. The wash block with loos is also heated.
There is an electric hob for cooking inside the yurt. There is a microwave you can use in the camp site honesty shop. Please do not bring a toaster to use in the yurt as it may blow the electrics!
There are electric lights in the yurt, battery powered tea lights and solar lights in the kitchen area
Cooking utensils, pans, cups, plates, cutlery and utensils such as a grater, small cafetiere, BBQ tongs
Teabags, instant coffee and sugar
Cool box and freezer access for freezing ice blocks
Double bed and two single pullout chair beds
Picnic table outside
Showers, toilets and washing up area a short walk away on camp site
Parking for one car by the yurt
Local Information Pack, wifi (rural!) near the showers, 4G coverage (not 02)
What to Bring
Torches / head torch battery lanterns – we are in Snowdonia National Park Dark Skies Reserve so it is very dark at night!
Bedding and pillows – (for standard double and 2 single beds)
Towels
Warm clothes for hanging out and sleeping in
Waterproof clothing for getting out and about whatever the weather
Washing up liquid – we provide bin bags, a dishcloth and tea towels
Food & Drink – or shop locally in Dolgellau or Fairbourne where there are excellent independent shops and 2 supermarkets. We also sell a range of local craft beers and wine etc on site.
We provide a cool box and a couple of ice packs but you may want to bring extra cool bags.
A sleeping mask / ear plugs if you don't want to wake up at sunrise with the dawn chorus!
Wellies / walking boots / slippers – wellies are useful but the yurts are near gravel walkways and there is matting in the kitchen area so it is not too muddy.
Shoes should not be worn inside so bringing your slippers is a cosy idea.
Books, games and stories for the camp fire or perhaps pre-download a movie
If you are bringing your dog – lead/long line, bed and bowls, dog coat for pampered pooches.