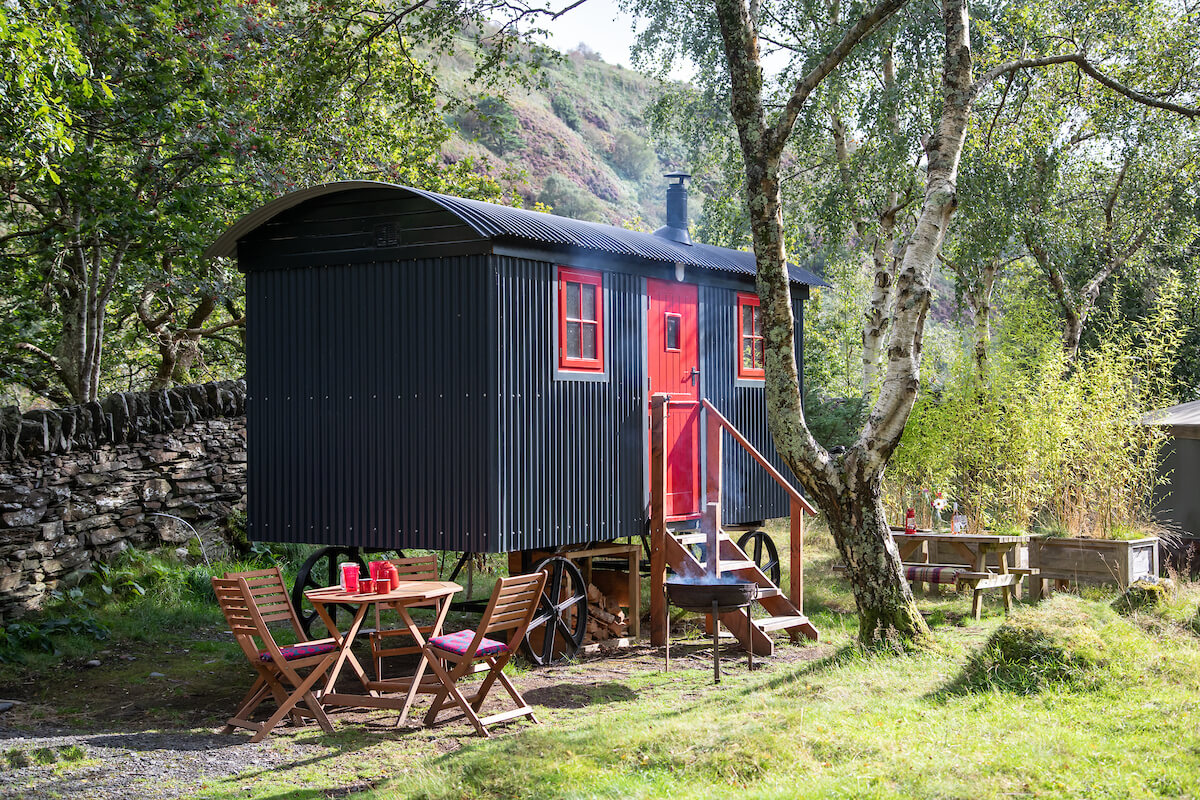 Couples and families looking for glamping holidays near Barmouth and Dolgellau in North Wales will be amazed by the cleverly designed space in our beautifully crafted shepherd's hut. Relax in the unique shepherd's hut we built in this wildly beautiful corner of Snowdonia National Park. From March, Jones the Shepherd's Hut is in an off grid location in a tranquil and sheltered silver birch glade.The beautiful Mawddach Estuary is a short (but steepish) walk through Graig Wen's woods and fields.
We built the high quality shepherd's hut to sleep two in style or a family of three or four. The clever design means it feels roomier inside than you would imagine from the outside, with plenty of space for relaxing and storage.
There's a full size double bed with proper mattress plus a day bed for chilling out which converts to bunk beds for two children if required. With well insulated walls and a wood burning stove, you'll be warm and snug whatever the weather. There is a dining table with seats for 4 and a kitchenette with sink and cold water tap, gas hob, fridge and all the cutlery and plates you need to whip up simple meals.
We provide bedding for the double bed including a sheep wool "Baavet" duvet made on a Snowdonia farm. You'll need to bring bedding for the bunks. There are warm Welsh blankets to snuggle under on cooler nights.
We can welcome one well behaved dog to the shepherd's hut.
A talented team of skilled local crafts people have built our bespoke Shepherd's Hut. Set on sturdy authentic cast iron wheels it has a corrugated tin, slate blue exterior. The interior fittings have been crafted from an interesting mix of Welsh hardwoods and timber reclaimed from a local chapel by our friend Dan from Adventures in Wood. You can read more about how we built our dream Shepherd's Hut here.
What's a Shepherd's Hut?
Shepherds used these simple structures to move with their flocks and stay close at lambing time. The tin huts could be towed from field to field by a horse as the sheep moved pastures. The shepherd would have slept and eaten here on the hillside, bringing weak lambs in to warm up by the stove. Mainly used in Wales and England in the nineteenth century, their agricultural use is now redundant – you occasionally see one fading away in the corner of a field – and the humble hut has transformed into a more luxurious beast for getting back to nature in comfort and style!
Over the winter months, you'll see Welsh Mountain sheep on our fields. They belong to the Jones family who have been shepherding here at Graig Wen for many years.
Location
You can park right next to Jones the Hut. There's a picnic table, chairs and a fire pit perfect for BBQs outside. A hot shower and compost loo are practically en suite just a few metres away from the Shepherd's Hut. These are shared with no more than a dozen other glampers. There are conventional loos, wash basins and further showers shared with the rest of the camp site about 100 – 150 metres away. The accommodation feels private although you will see your fellow glampers nearby in our Tommy yurt and two hand-built yurts which are a little further away through the mature silver birch and oak trees.
Off-grid living
The Shepherd's Hut is off grid, so interior lighting is provided by a solar charged battery. You can also charge up phones in the hut. We provide you with a lantern – we are in Snowdonia National Park Dark Skies Reserve so you'll need it to find your way to the loo at night!
You may pick up 3/4G by the hut and there is also a wifi point near reception for those who don't want to switch off completely!
Travelling light
Our Shepherd's Hut in Snowdonia is perfect if you fancy travelling light and trying a car-free holiday. It's easy to get to Graig Wen and get around on public transport. Bike hire is available locally and we can arrange to collect you from the local train station at Morfa Mawddach. You can pre-order a breakfast hamper or freshly baked croissants.
What we provide and what you should bring
Inside the Shepherd's Hut
Easy pull down double bed with proper mattress, sheep's wool duvet, non-feather pillows and cotton bed linen
Day bed can convert to two optional single bunk beds for children –  (please bring your own sleeping bags/bedding and pillows)
Wood burning stove – we provide starter pack of logs, kindling and firelighters – more for sale on site
Dining table and seating for four
Sink with cold water tap
Two ring Gas Hob for cooking
Small chiller/Fridge
Plates, cutlery, saucepans, mugs, glasses, fresh coffee dripper etc
Hot water bottles
Wool blankets
Solar lighting and a lantern (but it's very useful to bring torches especially if you are returning to your accommodation after dark)
Full Local Information Pack
4G available for most networks (except 02). WiFi available near reception
phone charging point – other devices can be charged in reception
There is access to a fridge/freezer as well as the chiller in the Shepherd's Hut.

Outside the Shepherd's Hut
Picnic bench
Fire pit
Loos and Showers
In March – end October location, there is a hot shower and nice clean compost loo a few steps away which is shared only with fellow glampers in 3 yurts.  Further conventional loos with wash basins and hot water, and hot showers are about 100 metres away shared with the rest of the camp site.
In November and December location The Shepherd's Hut is pitched close to the conventional loos, sinks and heated showers on the touring camp site shared with the odd out of season camper.
What you should bring
Towels
Bedding for bunk beds if required
Toiletries
Torches – head torches are best
Food
Warm clothes (it can get cold at night even in summer), suitable footwear for outside and slippers for inside
Insect repellant can be handy in muggy summer weather
Shepherd's Hut Yurt Prices
PRICES
From £85 – £130 / night
Outside of school holidays minimum 2 night bookings (3 nights on bank holidays)
During school holidays we book the Shepherd's Hut and yurts for 3 nights Friday to Monday and 4 nights Monday to Friday.
You can check availability for glamping and book online by searching for availability to arrive on a Friday to stay for 2 or 3 nights or Monday to stay for 2 or 4 nights. Week long bookings run from Friday to Friday – please call to book. We are sorry we do not offer one night stays.
Check prices and availability online or call us on 01341 250482
Booking Conditions
When booking with Graig Wen you are entering into a binding contract with us.
References to 'us' and 'we' in these Conditions relate to Graig Wen and references to 'you' or 'your' relate to the person making the booking and all members of the holiday party. When we email confirmation of a reservation to you, we enter into a contract with you, which is subject to these Booking Conditions.
Your Booking – We will confirm your reservation and email you a Welcome Pack when we receive your deposit (25%) or full payment if you book less than 6 weeks before your stay. Please check your booking confirmation and tell us of any errors immediately. You must be over 18 to make a booking.
Payment – You have 24 hours in which to pay your 25% deposit/full payment from the date you make your reservation. We will debit this from your card if you book on line. If money is not received in this time we reserve the right to offer the holiday to other enquirers. The balance is due at least 6 weeks before your arrival date. Please make a note to call us to pay by card before then on 01341 250482. Non payment of your balance, when this becomes due, will constitute cancellation of the holiday and forfeiture of the deposit payment. If we do not receive your balance by due date we will attempt to re-let the accommodation.
The charge includes VAT and a sack of logs for the wood-burning stove. Further logs are available to buy on site or locally.
The accommodation is let for holiday use only, for the time specified.
Cancellation or Changes by YOU – It is essential that you let us know immediately if you need to cancel your booking. Please telephone us and confirm in writing. If you cancel:
– more than 6 weeks before your arrival date you will lose your 25% deposit payment. We will refund any other payments made by you.
– less than 6 weeks before your arrival date you will lose your 25% deposit payment. We will attempt to re-let your holiday. If we are able to re-let for the whole period originally booked at the same price you we will refund the balance, less a £20 administration fee, at your request on the day you were due to check out. If we are unable to re-sell your holiday you will not be refunded any money paid and we will not transfer your booking.
We strongly recommend that guests take out their own travel insurance to cover this eventuality.
Cancellation or Changes by US – Once we have issued you with a confirmation we will do our very best not to make any changes to your booking or to cancel it. Sometimes though changes do occur before and after bookings have been confirmed, and very occasionally confirmed bookings have to be cancelled. We promise to do all we can to avoid changes and cancellations but must reserve the right to do so.
6. Your safety – Graig Wen's landscape includes some steep slopes and trees and parents/guardians are responsible for ensuring their children explore safely.
7. Pets – Well behaved pets that are supervised at all times are welcome. Dogs must be kept on a lead as sheep graze across the site and dogs may get on to the road. Please contact us if you would like to bring more than one pet. Pets must not be allowed on the furniture or beds so please bring appropriate bedding. At no time are pets to be left unattended. Fouling on site and any other mess made must be cleared up. Owners are liable for any damage caused.
8. Smoking – No smoking is allowed inside the accommodation.
9. Arrival and Departure – Unless special arrangements have been agreed, the normal earliest arrival time is 3:00pm on the holiday start date and last check in is 6pm. You must vacate the accommodation by 10am on the departure date. Alternative times can occasionally be arranged on request but please note that for Idris in its Wild Glamping Location there are strictly no arrivals after 7pm/dusk. This is due to the wild and remote location which is unlit. Please plan accordingly as you will be asked to arrive the next morning if you expect to arrive after 7pm.
If you do not contact us and you have not arrived by noon on the day following the holiday start date we will treat your holiday as having been cancelled by you and you will not be entitled to any refund.
10. You agree to look after the accommodation. This means you must keep all furniture, fittings and effects, (inside or outside) in the same state of repair and condition as at the start of the holiday, and leave it clean and tidy. If you break these conditions we can make an additional cleaning charge and/or make a claim against you for repair or loss as a result of damage caused. You are expected to show due consideration for other people, including other guests, local residents and our staff. If you abuse the property or display dangerous or offensive behavior towards the owners or other third party, we can refuse to allow you possession of the property or ask you to leave before the end of the holiday. If this happens we will treat your holiday as having been cancelled by you and you will not be entitled to any refund.
You must allow us access to the property at any reasonable time during your holiday.
If you have special requests or needs you are responsible for telling us at the time of booking. If you have a disability that may affect your holiday please tell us before you confirm your booking. We will do our best to accommodate you but will let you know if we are not able to meet your needs.
11. Dissatisfaction – It makes us happy if you enjoy your holiday. If you have any problems, please let us know so we can do our best to sort them out while you are here.
12. The owners shall not be liable for any loss or damage to visitor's property, however caused.
Number of people using the accommodation should not exceed the number agreed when booking. Please check with us first if you would like to have any visitors as there may not be any parking space available for them.
Tips for glamping in winter and wild Welsh weather!
A few words about what to expect in the colder months
The climate in North Wales during winter can be unpredictable. The first snow on the hills can fall in November and it has been known to snow in April, although we rarely experience much snowfall at Graig Wen as we are near sea level. Temperatures were unpredictable last year, so certainly be prepared for frosty mornings, strong winds and heavy rain!
On the plus side, conditions change quickly and though you might wake up on a wet morning, by the afternoon the hills can be bathed in sunshine, rainbows pop up and you can look forward to a clear night of star-gazing or a moon-lit wander…
The Shepherd's Hut is robust and will keep you dry as the wind roars around on a stormy night, but remember you are camping (albeit with added luxuries including a woodburner!) and will need to pack plenty of warm /waterproof clothing and appropriate footwear.
Bring a sense of adventure and enthusiasm for outdoor life in winter and you will have a memorable experience – if this isn't for you then you might like to consider booking one of our cottages with central heating or an en suite room in The Slate Shed B & B on site instead!
If you are aiming to climb a mountain during your trip, it's always worth having a plan B in case of poor weather conditions. We're very happy to advise on alternative walks and activities and cosy places to refuel afterwards…
What is provided in winter
The Hut has a woodburning stove, warm Welsh rugs, hot water bottles and a fire pit with grill for BBQing outside
There are plug sockets for charging phones
There is an electric point for plugging in hairdryers in the heated camp site showers. The wash block with loos is also heated.
Cooking utensils, pans, cups, plates, cutlery and utensils such as a grater, small cafetiere, BBQ tongs
Teabags, instant coffee and sugar
Fridge
Easy to pull down double bed
Bunk Beds with storage – upper bunk can be stored when not required to free up more space
Picnic table outside
Showers, toilets and washing up area a short walk away on camp site
Parking for one car by the Hut
Local Information Pack, wifi (rural!) near the showers, 4G coverage (not 02)
What to Bring
Torches / head torch battery lanterns – we are in Snowdonia National Park Dark Skies Reserve so it is very dark at night!
If required for bunk beds – Bedding and pillows (for double bed duvet, pillows and linen supplied)
Towels
Warm clothes for hanging out and sleeping in
Waterproof clothing for getting out and about whatever the weather
Food & Drink – or shop locally in Dolgellau or Fairbourne where there are excellent independent shops and 2 supermarkets. We also sell a range of local craft beers and wine etc on site.
We provide washing up liquid, bin bags, a dishcloth and tea towels
We provide a small fridge and you can freeze ice-packs on site if you wish to bring an extra cool box
Wellies / walking boots / slippers – wellies are useful but the hut is near gravel walkways so it is not too muddy.
Boots should not be worn inside so bringing your slippers is a cosy idea.
Books, games and stories for the camp fire or perhaps pre-download a movie
If you are bringing your dog – lead/long line, bed and bowls, dog coat for pampered pooches – see our guide to bringing your dog on holiday.
Tips for searching for availability
To meet minimum stay requirements, you must search for 3 nights from Friday check in or 4 nights from Monday check in.
For the 2020 Early May Bank holiday, you can check in for 3 nights on either Thursday or Friday. For week long bookings or shorter stays off peak/last minute please call