Sneak preview of new wagons taking shape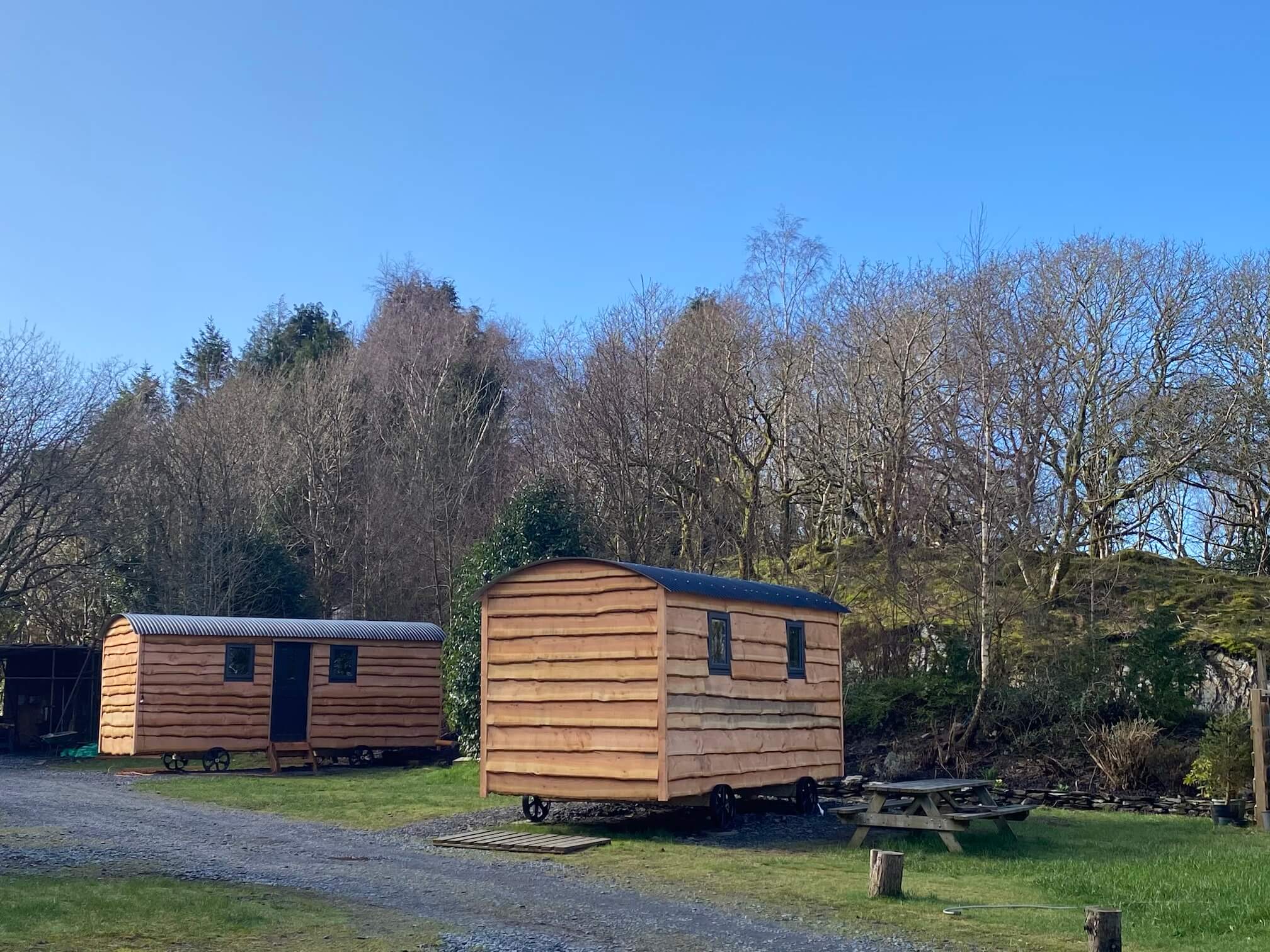 We are excited to share with you the first pictures of our new self catering accommodation taking shape here at Graig Wen. Work is still very much in progress on both the interiors and the outdoor landscaping, but we felt it was time for introductions…
Meet Empress and Small Duchess, our new quarry wagons!  
Since January we've been working with our fantastic local team to build the wagons from scratch to our own design.
The two wagons are located on a couple of pitches on the camper van/caravan area of the site. As some know (especially if you've tried to hammer in tent pegs!), in Victorian times, this area was where rock was brought on wagons from the slate quarry just down the road. The rock was split into roofing slates in the building which now houses the adjacent holiday cottages and Slate Shed B & B. For this reason, we have named the wagons after the traditional names for sizes of slate used by local Welsh quarrymen. Empress slates are the largest with Small Duchess mid range size.
The wagons are clad with Douglas Fir timber produced locally and ecologically in the Esgair Forest. The forest is part of the UNSESCO Dyfi Biosphere Reserve, which supports sustainable livelihoods based on healthy environments. The wagons' sleek interior is made from sustainable birch plywood, giving them a light and airy modern feel.
What's in them?
Empress can sleep 4 and will have a small en suite shower room with flushing loo. Small Duchess can sleep 3 and enjoys views towards the estuary and mountains. Similar in layout to our existing shepherd's hut, both wagons will have a small kitchenette, dining table with bench seats and double bed with optional sofa/bunk bed. They are fully insulated with electric heaters and lighting so ideal for those who like instant warmth and comfort whatever the weather or season. Keep an eye on our social media for interior pictures soon.
When will they be ready?
As you can imagine, building during lockdown is sometimes challenging, but we are on course for the wagons to be ready for April if we can welcome guests back then.  Booking is not yet open online but if you're interested in booking a stay then please drop us an email!  We hope you will agree that they are an attractive addition to our range of self catering accommodation in Snowdonia.