FREQUENTLY ASKED QUESTIONS
FAQS
How far is Graig Wen from… Snowdon? We are in the Southern part of Snowdonia National Park, near to Dolgellau and Barmouth on the coast. If you're looking to climb Snowdon, or to give it the Welsh name, Yr Wyddfa, you're in luck, as we are only a picturesque hour's drive away to the nearest side of the mountain. If you are taking the steam train from Llanberis then it's 1 hour and 20 minutes.
Yr Wyddfa/Snowdon is Europe's busiest mountain with over 600,000 visitors a year! If you would like to hike up a quieter mountain, closer to Graig Wen, we would highly recommend Cader Idris.  You'll find much more information to help you choose on our Guest Welcome Guide/App which you have access to when you book.
Barmouth? If you take the toll bridge near the George III pub at Penmaenpool, you can reach Barmouth in 20 minutes by car. If you walk the Mawddach trail from our site across Barmouth Bridge, it's a scenic 6km walk.  Please note Barmouth Bridge is closed for maintenance work in 2022 from September until December. Other options are using the free car park at Morfa Mawddach train station and either catching the train or walking around 1km across the famous bridge to Barmouth. You can can also drive or enjoy taking the Fairbourne stream railway to Penrhyn Point and then take the passenger ferry across to Barmouth.
Can you access the Mawddach Trail from the camp site? Yes, but be prepared for a steep walk back up. It is approximately 600 metres to the Mawwdach Trail from the touring camp site, cottages and most glamping accommodation with a total of 70m ascent.  You can read more about access here.
The nearest shops? Our nearest corner shop is in Fairbourne, which is a 7 minute drive away. If it's a supermarket you're looking for, we suggest the old market town of Dolgellau, just a 10 minute drive away.
The nearest pub? Our nearest pub is the George III, which is a 5 minute drive down the road and a beautiful 6km walk along the Mawddach trail (about an hour and 30 minutes walk for an adult). If you'd prefer to cycle, it's 20 minutes off road on the Mawddach Trail.
How far is Graig Wen from Zip World? We are 30 minutes drive from Titan, Zip Caverns and Bounce Below. We are an hour and 20 minutes scenic but easy drive from Velocity. We are an hour from Zip Fforest Tree Tops and the new Coaster.
Where are the nearest dog friendly… Beaches? Thankfully, we are surrounded by some fantastic beaches, all of which have dog friendly areas. Fairbourne is one of our personal favourites, and Barmouth is also a fantastic beach for dog walking. The Mawddach trail is also dog friendly, and is accessible direct from our site.
Eating places? Many local pubs and cafes are more than happy to accommodate dogs. The George III in Penmaenpool, The Ship in Dolgellau and The Last Inn in Barmouth are all dog friendly and serve good food and drink.
How do I get to Cader Idris? Cader Idris is a fantastic mountain to climb, especially if you have children or aren't too sure about scaling Snowdon just yet! We are a 15 minute drive from the Pony Path up the mountain. This path is one of the least challenging ways to ascend and descend the summit, and takes around four and a half to five hours to complete. If your child completes the climb then we will award them with their very own certificate from the Cader Kids Club too.  It's also possible to walk directly from Graig Wen to the summit – it's a great day out so allow around 8 hours for the round trip
Are there any good walks directly from Graig Wen? The Mawddach trail is a scenic walk accessed through our camping fields, with stunning views across the estuary. We are also near Cregennan lakes and Arthog falls, both of which are great walks to do with the family.
I have mobility issues. How can I access the Mawddach Trail? We have direct access to the Mawddach trail at the base of our site, however this is not suitable for people with mobility issues. To access the trail, just drive to the free car park by the Toll bridge near George III pub at Penmaenpool and you have direct access here. Read more about access at Graig Wen here.
Do you have wifi? Yes we do. Cottages have their own dedicated wifi which is improved and suitable for streaming with your own devices. If you are camping with us, free wifi is accessible outside the reception area. Please remember that we are rural and are a long way from fibre optic, so the camp site connection can be slow at times and is not suitable for streaming or downloading content such as movies. There is 4G coverage across the site for most networks see below.
What is the mobile signal like? Graig Wen is situated in a fairly rural area, so depending on your provider you may get some signal while you're here. We find that EE provides the best coverage on our site, while Vodafone is patchy and 02 not available until near Dolgellau!. We do however have a phone in reception that our guests are welcome to use if needed.
Do you accept groups? By arrangement we welcome small groups of family / friends who respect the tranquil environment here and our quiet hours between 8am and 11pm. There are a few areas of our camp site where you can pitch a small group of tents together but we are required by planning conditions to limit where tents are pitched so they are mostly widely spaced out across 40 acres of land.  Please phone us to book on 01341 250482 rather than trying to book online.  Exclusive hire of the whole site is available for special celebrations if you book far enough in advance (usually about a year in advance)!
How do I book glamping?
You can check availability for glamping and book online. You can book short breaks from Friday to Monday or Monday to Friday so you will need to search for availability to arrive on a Friday to stay for 3 nights or Monday to stay for 4 nights. We are sorry we do not offer one night stays, but can offer 2 night stays in the pop-up yurts and occasionally the other yurts outside of peak season.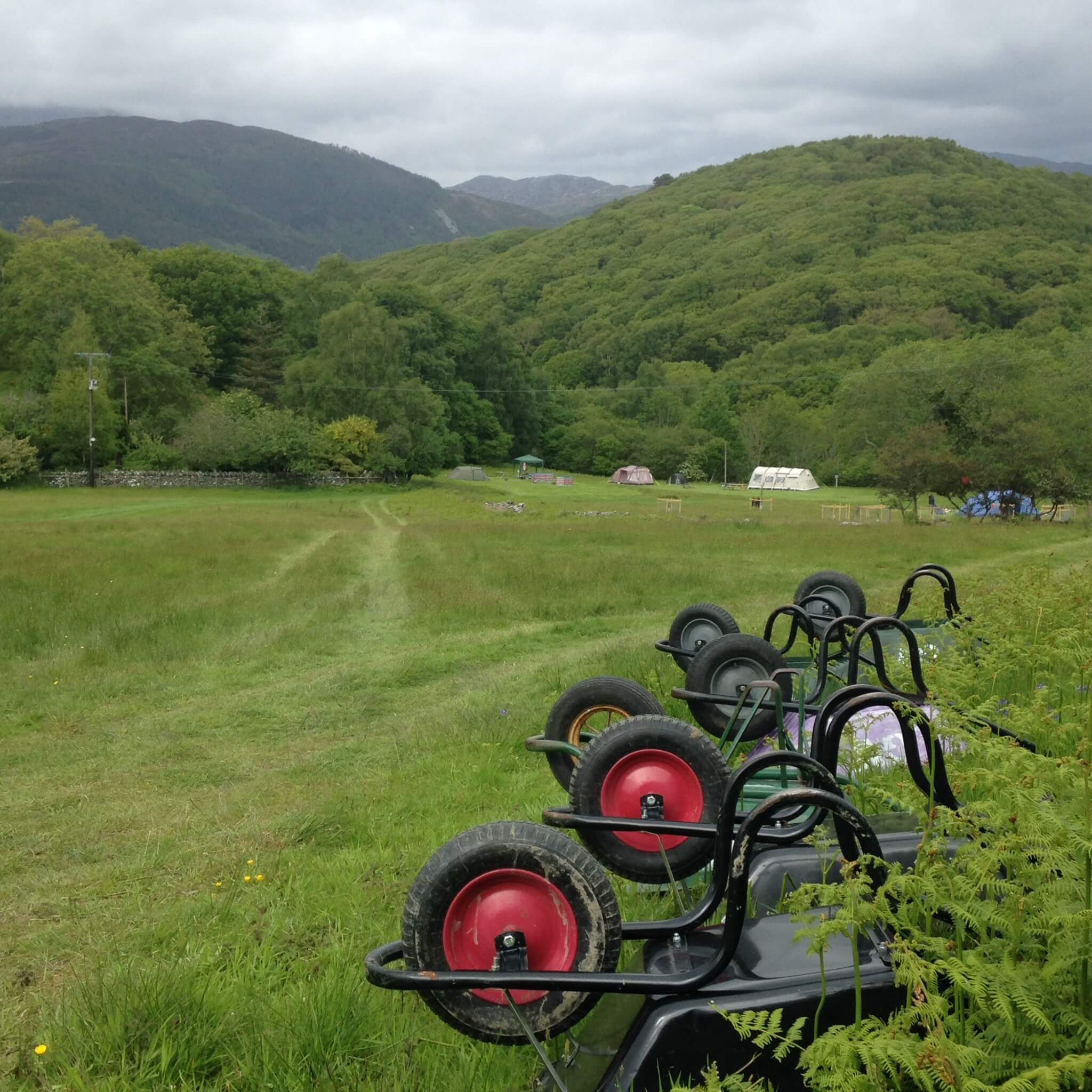 Camping and parking questions
Can I pitch my tent by my car? Please note that most of our camping pitches do not allow for car parking by them. On the Tent camping fields there are 3 Pitch and Park pitches bookable which you can drive to and park next to.  All other tent campers must park in our car park and either use the provided wheelbarrows, or our lift service (2 – 4pm for arrivals, 9.30 – 10.30am for departures) to move kit between the car park and pitch. Distance from car park to pitches ranges from 150 – 400 metres, uphill and down dale….
Can I camp in my camper van next to friends in a tent? Sorry no. The tent fields are only for tents and are not accessible by camper vans due to a steep track. If you are a bringing a camper van you have to book a camper van pitch.  You cannot pitch tents in the camper van area as the ground and space are unsuitable.
Can I bring my campervan / extra car and tent camp in the tent fields but park my van/extra car somewhere else? Sorry No.  The tent camping fields car park is not suitable for vans as the access track is steep. We regret we do not have any spare space to park vehicles elsewhere on site.  We only have one vehicle parking space per pitch. The nearest car parking areas off site are several miles away. If you arrive with an extra, or unsuitable vehicle, we will not have space to park it and your booking may need to be cancelled with no refund.