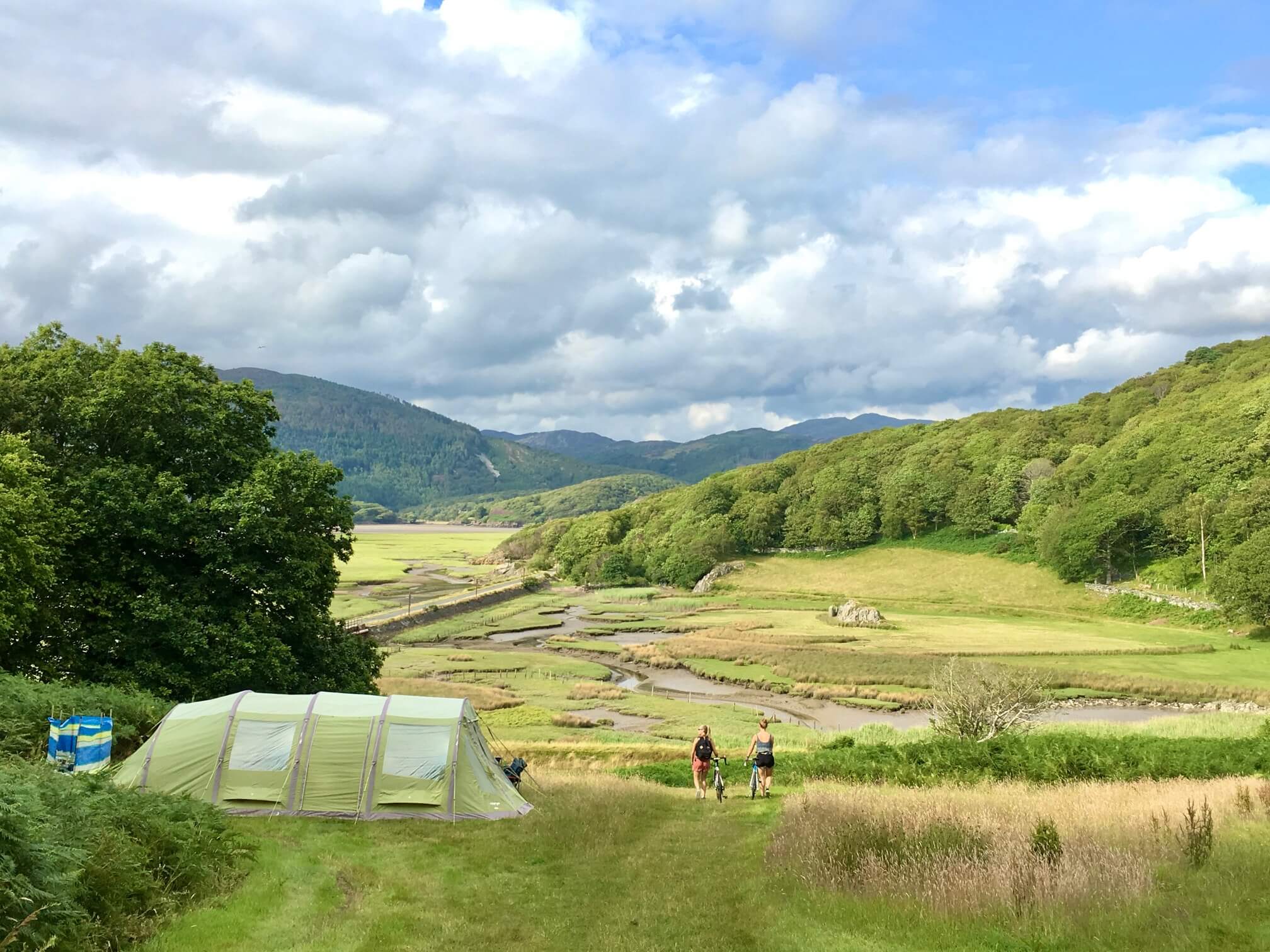 Tent campers looking for a wilder camping experience with camp fires in Snowdonia can pitch on our lower camping fields. Pitches on our camp site on the Mawddach Trail are well spread out in sheltered glades, secret meadows or high on a bluff overlooking the estuary. Our "nearly wild" camp site in Snowdonia National Park is open from May until 30 September.   We are proud that our camp site in North Wales has been featured in the Cool Camping guides for many years, is one of their "50 Best Camp Sites on the Wilder Side",  and won Go North Wales Best Camping, Glamping, Caravan site 2021.
Back to Nature Camping
The lower camping fields are for tent campers looking for a quiet, back to nature camping experience with camp fires. The 40 acres of meadows and wild woods are crossed by streams and dry stone walls so you are surrounded by unspoilt scenery and wildlife.  Your neighbours will be owls and woodpeckers! Pitches are spacious with a maximum of 17 tents permitted so there's plenty of breathing space.  Facilities are simple but very clean, with compost loos, hot showers and drinking water taps.   Fields are kept car-free – you cannot drive to most pitches and vehicle access is strictly limited  – please make sure you read the details about this below before booking.  A great camping experience for grown ups with a spirit of adventure and families with older children. There is a different area of the site for camper vans.
Facilities on the tent camping fields:
responsibly managed campfires allowed in stone fire-pits – logs for sale on site
clean compost toilets
two unisex hot showers near estuary field and a further hot shower near secluded pitches
drinking water taps
dish washing sinks
recently refurbished conventional loos and washbasins plus more hot showers a few minutes walk up the steep hill on touring site
car-free camping area for most pitches – you cannot drive to most pitches and must leave your car in the camper's car park (no access available for vans as track too steep)
3 "Pitch and Park" pitches pre-bookable that you can park a car next to your tent
pre-order breakfast croissant, takeaway barista coffee and buy local craft beers, ciders and eggs on site.
strictly one tent and one car per pitch. No additional annexes or gazebos on estuary field pitches.
Limited Vehicle Access
Vehicle access is via a steep track so the lower fields are not suitable for vans of any kind which are better suited to our touring site.  We have lots of space for tent camping but strictly limit the number of pitches and car access/parking to protect the tranquil environment.  There's a few pitches where you can park by your pitch.  Most pitches are from 3 – 10 minutes walk from the car parking area and you cannot drive to them to drop your stuff.
For campers with lots of kit we try and offer a lift service for arrivals between 2 and 4pm on our off road vehicle.  Outside of these times please be prepared to carry your kit to your pitch. Wheelbarrows are provided to help!  Access to the lower fields is for cars only via a steep track.  There is no access for vans and no other parking area for vans unless you book a camper van pitch. Please note that the pitches on the estuary field have great views but are a little closer together so we ask that you do not bring additional event shelters, annexes, gazebos etc for the estuary field.
Please note that we do not accept new arrivals before 12 noon or after 6pm/dark, (whichever is earlier) unless by prior arrangement. This is for the safety and peace and quiet of all campers.  
Minimum booking requirements
For advance online bookings, Bank Holidays have a 3 night minimum stay/price requirement and there are other minimum stay requirements during the school holidays. This is to give campers who want to book their main holiday first chance at the pitches. Shorter stays are usually available nearer the time, so if you are having trouble booking but can see availability, please give us a call.
"If Carlsberg did campsites… We chose to camp in the Estuary field where no cars are allowed and you've got truly great views across the Mawddach Estuary, spacious pitches each with a campfire spot and dark skies with stars that will leave you gawping. What a place to be! Got to be one of, if not, THE best spot we've pitched at."
2022 Tent fields prices
TENT FIELDS
Open 1 May – 30 September
We have minimum booking requirements during peak season including 3 night stays on bank holidays. If you can't book the dates you require online but can see they are available please get in touch and we will see if we can fit you in.
2022 Prices
Prices are based on one tent and up to 2 people sharing.  Strictly one tent per pitch. Dates are inclusive.
If you are a solo camper looking for a pitch last minute please contact us for the best deal we can offer.
Mid season 3 – 26 May excluding bank holiday,  6 – 30 June, 5 – 30 September
£20 pitch /night based on up to 2 people sharing 1 tent
Peak Season All bank holidays and school holidays: 27 May – 5 June and 1 July – 4 September
£30 pitch / night based on up to 2 people sharing 1 tent
Extras
Car charge  – this is to manage very limited parking space
Peak Season £10 for whole of stay – one car per pitch only
Mid Season £5 for whole stay – one car per pitch only
For Pitch with car parking next to it (one car only) Car  & pitch charge plus £2/night (only 3 of these pitches are available)
Dogs £2/dog/stay (donated to animal charity)
Battery charging in reception £1/item/charge
Additional people sharing same tent – price is per night
Mid Season Adult £8 Child (5 – 16 inclusive) £3.50 Under 5s free
Peak Season Adult £9 Child (5 – 16 inclusive) £4 Under 5s free
We regret car parking and pitches are strictly limited by planning restrictions.   One car per pitch is allowed so any additional vehicles are strictly by prior arrangement and subject to availability charged at £30/night during peak times as we have to shut another pitch down to create a car parking space.