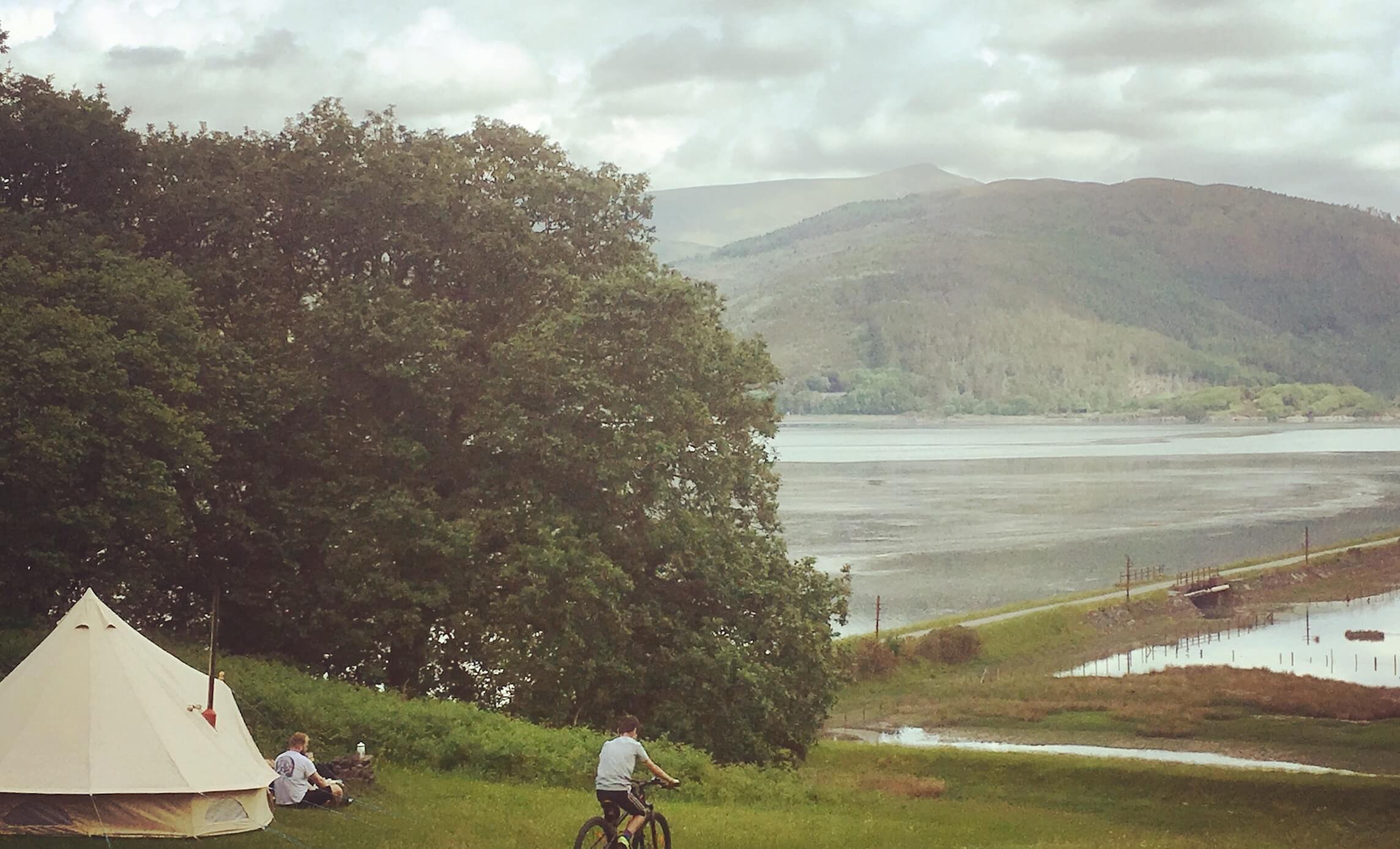 The tent camping fields are now closed for the season. Booking for 2020 opens on 1st December.
Tent campers looking for a wilder camping experience with camp fires can pitch on our lower camping fields in sheltered glades, secret meadows or high on a bluff overlooking the estuary from 1 May until 30 September. We are proud that our camp site is featured in the Cool Camping guides and has won a Green Snowdonia Award – we are in the top 3 places to camp in Wales in the most up to date edition of Cool Camping.
The lower camping fields are for tent campers looking for a back to nature camping experience. The 40 acres of meadows and wild woods are crossed by streams and dry stone walls so you are surrounded by unspoilt scenery and wildlife. Your neighbours will be owls and woodpeckers! Pitches are spacious with a maximum of 18 tents permitted so there's plenty of breathing space. There are compost loos and a new shower trailer on the tent camping fields. Vehicle access is strictly limited and the fields kept car-free – see below. A great camping experience for grown ups with a spirit of adventure and families with older children.
Facilities on the tent camping fields:
responsibly managed campfires allowed in stone fire-pits – logs for sale on site
compost toilets
lovely new shower trailer with two unisex showers near estuary field
drinking water tap near estuary field
conventional loos and further showers a few minutes walk up the steep hill on touring site
car-free camping area for most pitches – leave your car in the camper's car park (no parking available for vans as track too steep)
3 "Pitch and Park" pitches you can park a car next to your tent
pre-order breakfast croissant and buy local craft beers, eggs and bacon on site
strictly one tent and one car per pitch. No additional annexes or gazebos on estuary field pitches.
look at our site plan and visit Graig Wen on Facebook for more pictures and news
Vehicle access is via a steep track so the lower fields are not suitable for vans of any kind which are better suited to our touring site.  We have lots of space for tent camping but strictly limit the number of pitches and car access/parking to protect the tranquil environment.  There's a few pitches where you can park by your pitch.  Most pitches are from 3 – 10 minutes walk from the car parking area.  For famililies with lots of kit we try and offer a lift service for arrivals between 2 and 4pm.  Outside of these times please be prepared to carry your kit to your pitch. Wheelbarrows are provided to help!  Access to the lower fields is for cars only (no vans) via a steep track.  Please note that the pitches on the estuary field have great views but are a little closer together so we ask that you do not bring additional event shelters, annexes, gazebos etc for the estuary field.  
Please note that we do not accept new arrivals before 12 noon or after 6pm/dark, (whichever is earlier) unless by prior arrangement. This is for the safety and peace and quiet of all campers.  
Camping Facilities
FACILITIES
compost loos on lower fields
new shower trailer near estuary field
two ladies and two gents loos a walk up hill on touring site
two unisex showers a steep walk up track on upper touring site.  Area for hairdrying (bring your hairdryer)
dogs on leads welcome
pub within 30 minutes bike ride along estuary trail
BBQs allowed and communal campfire area – logs and charcoal for sale on site
mobile phone reception (except for 02 users)
3G and 4G. wifi access at reception
public transport from site entrance
bike hire locally from Dolgellau, Barmouth and Coed y Brenin
shops and launderette within 2 miles. Cafes and supermarkets within 5 miles.
camp shop selling essentials such as milk, cold drinks, Calor gas and rock pegs
pre-order breakfast croissants on site
covered washing up area and microwave access on upper touring site
filtered drinking water from mountain spring – cold tap on lower fields
starry skies and birdsong
2020 Lower tent fields prices
TENT FIELDS
Open 1 May – 30 September
We have minimum booking requirements during peak season including 3 night stays on bank holidays. If you can't book the dates you require online please get in touch and we will see if we can fit you in.
2020 Prices
Prices are based on one tent and up to 2 people sharing.  Strictly one tent per pitch. Dates are inclusive.
If you are a solo camper looking for a pitch last minute please contact us for the best deal we can offer.
Mid season 1 – 21 May excluding bank holiday, 30 May – 30 June, 1 – 30 September
£15 pitch /night based on up to 2 people sharing 1 tent
Peak Season All bank holidays and school holidays: 22 – 30 May and 1 July – 31 August
£20 pitch / night based on up to 2 people sharing 1 tent
Extras
Car charge £10 for whole of stay – one car per pitch only – the is to manage very limited parking space
For Pitch with car parking next to it (one car only) £10 one off charge plus £1/night
Dogs £2/dog/stay (donated to animal charity)
Phone charging in reception £1/item/charge
Additional people sharing same tent – price is per night
Mid Season Adult £8 Child (5 – 16 inclusive) £3.50 Under 5s free
Peak Season Adult £9 Child (5 – 16 inclusive) £4 Under 5s free
We regret car parking and pitches are strictly limited by planning restrictions.   One car per pitch is allowed so any additional vehicles are strictly by prior arrangement and subject to availability charged at £30/night during peak times as we have to shut another pitch down to create a car parking space.
September special offer: Car parking charge for tent fields reduced to £2/stay
Booking Conditions
You can book camping online – please ensure you carefully read the information about the different areas of our camp site to ensure they are suitable for you. If in doubt, please call us.
If you want to book more than a couple of pitches it's best to phone 01341 250482 between 9am and 7pm as we take groups by arrangement only. If you can see availability on the calendar but have problems booking then please call us as we may be able to waive minimum stay requirements at peak times for late availability.
PAYMENT AND BOOKING CONDITIONS
You can pay by credit or debit card – there is no charge for this. We do not accept cheques
For bookings made 6 weeks or less before your stay, we require payment in full in advance.
For bookings made 6 weeks or more before your stay, we require 25% deposit. Your balance is due 6 weeks before your stay. You will receive an email reminder of this and you must re-enter your payment details. If we do not receive payment from you by this time we reserve the right to cancel your booking.
We will email you confirmation of your booking and you must let us know of any discrepancies immediately.
Cancellation by you
If you cancel more than 14 days before your stay you will receive 75% refund.
If you cancel 14 days or less before your stay you will not be entitled to any refund.
If you do have a problem please email or call us as soon as possible so we can re-let your pitch as another camper who may want it. Deposit payments are non-refundable and non-transferable. We recommend taking out travel insurance.
Deposit payments
Deposit payments are non-refundable and non-transferable. No refunds can be given if you chose to depart prior to the end of your booked holiday for whatever reason.
We reserve the right to refuse any bookings. Group bookings are at our discretion.
Change or cancellation of the holiday by us</strong>
In the unlikely event we are unable to provide the booked holiday and have to cancel before the holiday is due to start, you are entitled to a full refund of the money you have paid.
Pitch Sizes
You should let us know at the time of booking the size of tent you will bring to ensure your allocated pitch is large enough. Gazebo and event shelters are by prior arrangement only as not all pitches are suitable. There is space for one car per pitch to park (strictly no van access to lower tent camping fields as track is too steep). Should you subsequently change your requirements we will do our best to accommodate you but cannot guarantee to provide an appropriately sized pitch or parking space for additional cars. Strictly one tent per pitch only on lower fields. On the estuary fields we do not accept additional gazebos, event shelters etc – there is more room for these on the family camping and secluded pitches.
Arrivals and Departures
Your pitch is available from 12 noon
Last arrival time on the touring area at the top of the site is 9pm.
Last arrival on the lower tent camping fields is 6pm -strictly no new arrivals after this time unless by prior arrangement or after dark as the track to the lower fields is steep and unlit.
If you do not arrive by last check in time on the first day of your booking and you have not advised us otherwise then we reserve the right to re-let your pitch. Please do not arrive before 12 noon as your pitch may not be available and parking space is very limited.
Check out by 12 noon on departure day
We make every effort to allocate guests the pitch of their choice however we cannot guarantee this. We will direct you to your pitch on arrival. Please ask if you are in any doubt if you are on the correct pitch as campers on the wrong pitch will be required to move.
The ground rules…
By booking with us, you and your party agree to:
– respect your fellow guests, neighbours and people/ animals who live/work at Graig Wen
– supervise children appropriately so they are not a nuisance or danger to themselves and other people or animals. The top touring site is fenced but beyond this Graig Wen's landscape and lower camping fields includes some steep slopes, trees and shallow water and PARENTS/GUARDIANS MUST BE RESPONSIBLE FOR ENSURING THEIR CHILDREN EXPLORE SAFELY.
– not create any undue noise or disturbance. Quiet hours are from 11pm to 8.00am. Please respect your neighbours and keep noise to a minimum between these hours.
Group bookings – we do not acept group bookings online and we welcome small, quiet groups only by prior arrangement – please call to discuss.
Access statement and policy
We regret our camping facilities are not accessible by wheelchair users and people with mobility issues may find the steep track to the estuary / facilities difficult. We have accessible accommodation in our B & B.
Our access statement is here.
Dogs and other pets
You are welcome to bring your dog with you but there will be no exceptions to the following rules:
The dog must be on a lead at all times on the site
Clean up after your dog
Do not leave your dog unattended at any time
Camp fires/BBQs
There is a communal camp fire for the touring site but individual camp fires are only allowed on our lower tent camping fields. Fire woks are only permitted on the touring site at our discretion to ensure the safety of other campers. BBQs must be raised from the ground and clear of trees.
Visitors
At busy times we have very limited parking space so please check with us first before agreeing to have visitors on site.
We reserve the right to ask guests who do not respect the terms and conditions of staying here or who in any way behave in a manner likely to cause upset to our other guests, neighbours and staff, to leave Graig Wen immediately. In these circumstances the holiday ceases and we shall not be liable for any extra costs incurred by you.