Camper Vans & Small Caravans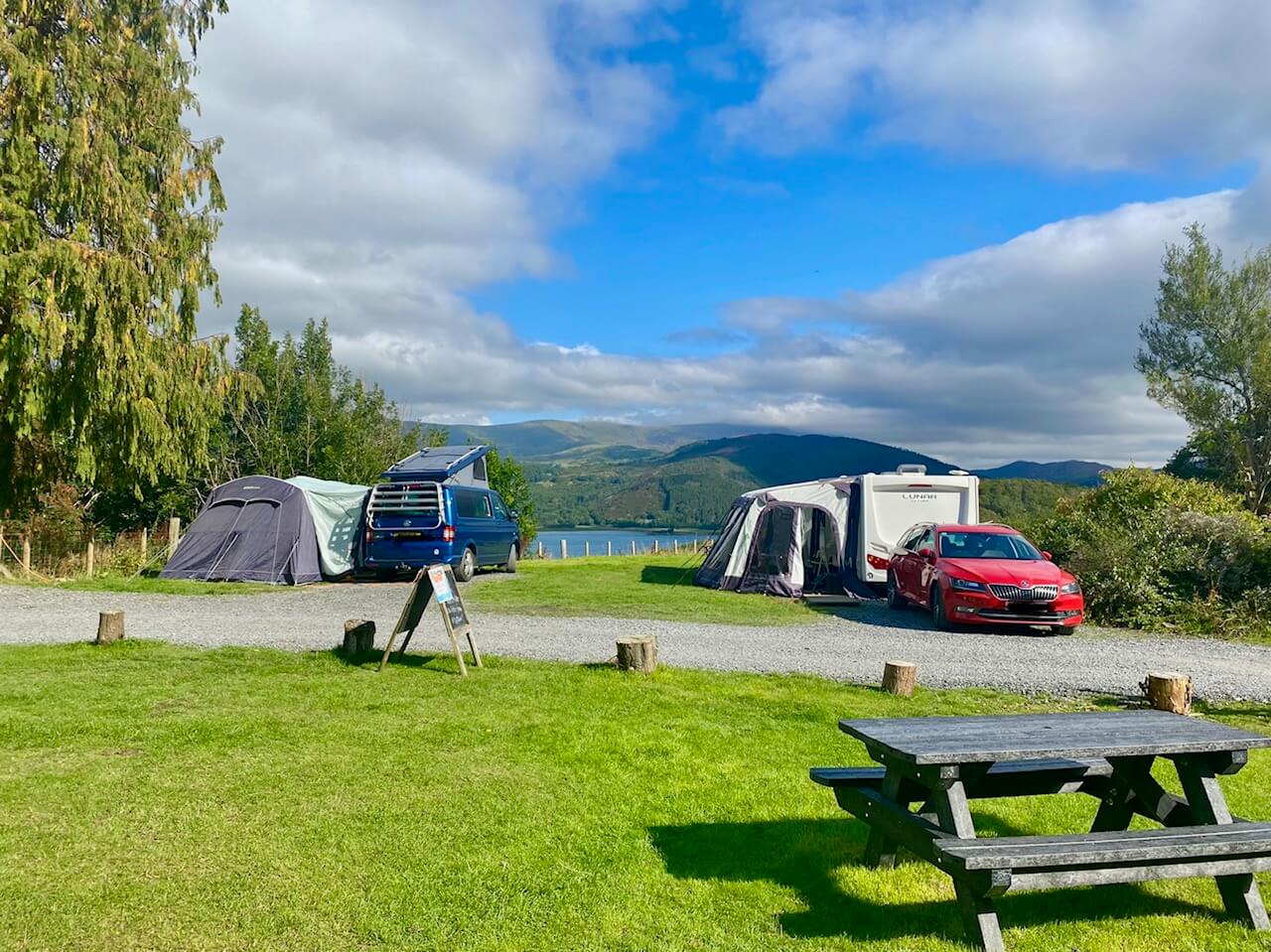 On the small, touring van area of our camp site in Snowdonia, there are 6 pitches with electric hook ups suitable for camper vans and smaller motorhomes. A few of these pitches are suitable for caravans too. This area is open from 1st March – early January. Winter access is easy and comfortable as the van pitches are hard standing and our wash block is heated.
For tent campers our spacious, nearly wild tent camping fields are open 1st May – 30th September.
The site is surrounded by the dramatic scenery of Snowdonia National Park – watch the shadows race over the mountains and the ebb and flow of the Mawddach Estuary. Shelter is provided by oak, birch and rowan trees and hill sides covered in heather and moss. The two "panorama pitches" have the best views but there are benches overlooking the view for everyone to enjoy. There is also a communal camp fire area with fairy lights in a sheltered glade in the woods.
We are now open and all availability is online to book via our web site. 
There is direct access down a steep track (unsuitable for people with mobility issues) through the meadows and woodland of the lower tent camping fields to the Mawddach Cycle Trail along the estuary.  The wildlife here is wonderful – regularly seen (or heard) on site are owls, bats, buzzards, woodpeckers, jays, house martins, wagtails and even nightjars and peregrines. With rugged scenery and rocky outcrops around the site, it's advisable to bring sturdy pegs for awnings (we usually have rock pegs for sale in reception)!
You can choose from 2 panorama pitches, 1 standard motorhome/caravan pitch or 4 small camper van pitches to best accommodate different sizes of touring vans and caravans. Early booking advised for the two panorama pitches with the best views! Pitch types are designed to create more breathing space between pitches at peak times. We are sorry but on this part of the site there is not space for tents, additional gazebos, event shelters etc. Tent campers should book onto our nearly wild Tent Camping Fields.
Here is a description of our our facilities but please read this update about changes we have made to our camping facilities as result of COVID.
If you are looking for splendid isolation you can find it on our tent only camping fields as the touring van site is much smaller with pitches closer together. But if you are looking for a small, clean and quietly sociable site in a great location, then we hope you will enjoy Graig Wen.
2022 Touring Site prices and pitch types
We have 6 pitches which accommodate different size touring vans and smaller caravans.  Please make sure you book the right type of pitch for you. We are sorry but on this part of the site there is not space for additional gazebos, events shelters etc.
All our touring site pitches have optional electric hook and are hardstanding.
Prices include up to 2 people sharing one unit and one vehicle per pitch
If you are a solo camper looking for a pitch last minute, please contact us for the best deal we can offer.
Panorama Pitches – 2 pitches with the best views for caravans or motorhomes up to 7.5 metres plus standard awnings to 2.5 deep 
Low Season £22
Mid Season £25
Peak Season £30
Caravan/Motorhome pitch – 1 pitch suitable for caravans or motorhomes up to 7m with awnings up to 3m deep. (Pitch 3 on our Site Map)
Low Season £20
Mid Season £22
Peak Season £25
Small Camper Van Pitches – 3 pitches which can accommodate small camper vans up to 6m with a standard awning up to 2.5m deep. On our site map these are pitch numbers 4, 5 and 6. No caravans or tents.
Low Season £20
Mid Season £22
Peak Season £25
Dates are inclusive:
Low Season
1 March – 1 April, 1 October – 22 December 2022
Mid Season
2 April – 27 May excluding Bank Holidays, 6 – 30 June, 5 – 30 September 2022
Peak Season
All Bank Holidays,  27 May – 5 June, 1 July – 4 September, 23 December 2022 – 5 January 2023
Optional Extras
Electric hook up £5/night
Dogs £2/dog/stay (We annually donate this to a local animal rescue charity)
Extra car (subject to availability only) £10/night
Additional people per night
Low Season: Adult £7 Child (5 – 16 inclusive) £3
Mid Season: Adult £8 Child (5 – 16 inclusive) £3.50
Peak Season: Adult £9 Child (5 – 16 inclusive) £4
Under 5s are free.
There are minimum nights stay requirements during peak season including 3 days for bank holidays for all pitches and usually 7 nights for Panorama Pitches during school holidays unless we have a shorter gap nearer the time.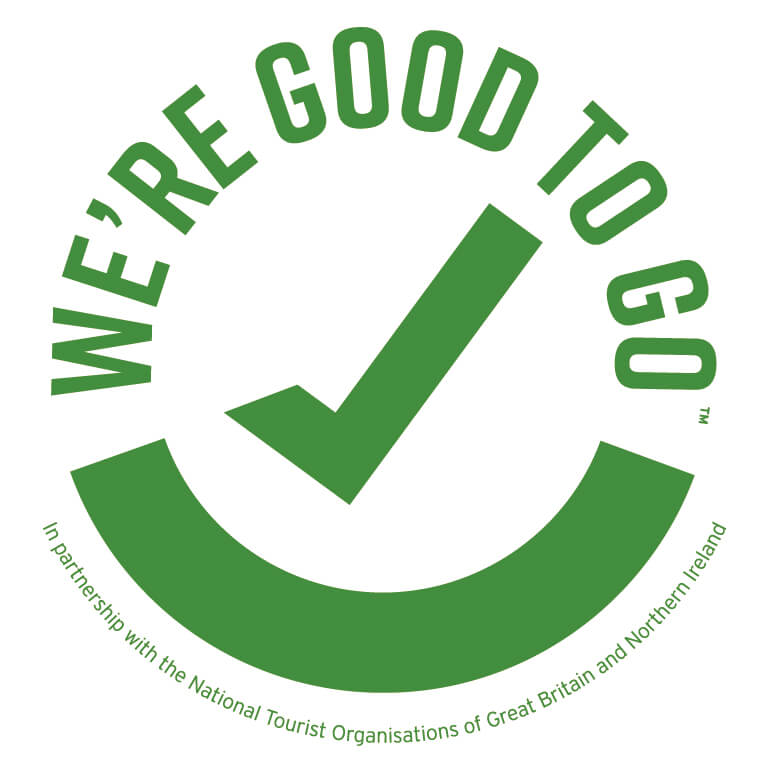 Graig Wen was a really friendly, well-organised and clean campsite. The view from the top of the site and the little extra viewpoint were outstanding, what a spot to have a campsite! We had a hardstanding pitch which was spacious and close to the facilities. The toilet block and showers were kept clean (and good covid protocols in place). The welcome was warm and all the staff we came in to contact with were helpful and friendly. Absolutely loved the shop and the option to order breakfast pastries too. The app was such a helpful tool, even used it for advice when we had left but were still in the area. We will definitely be heading back to Graig Wen.