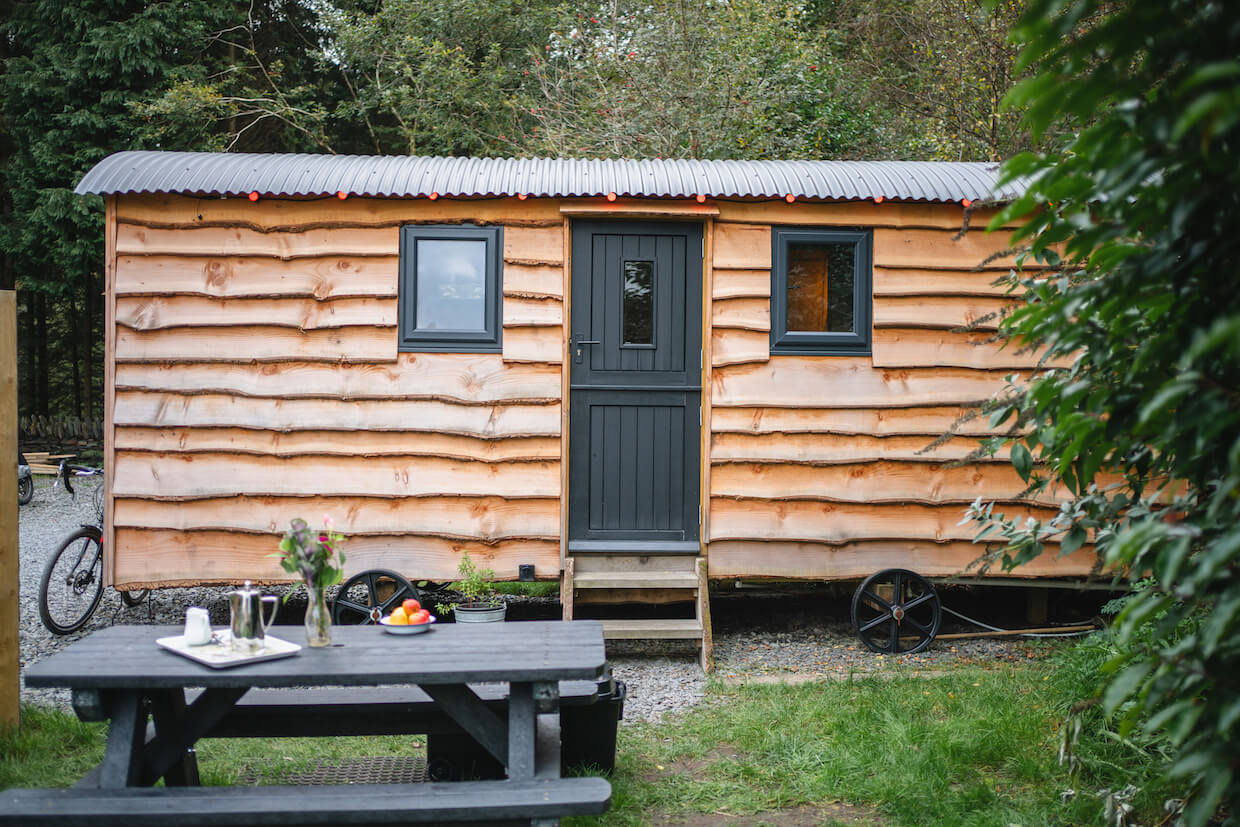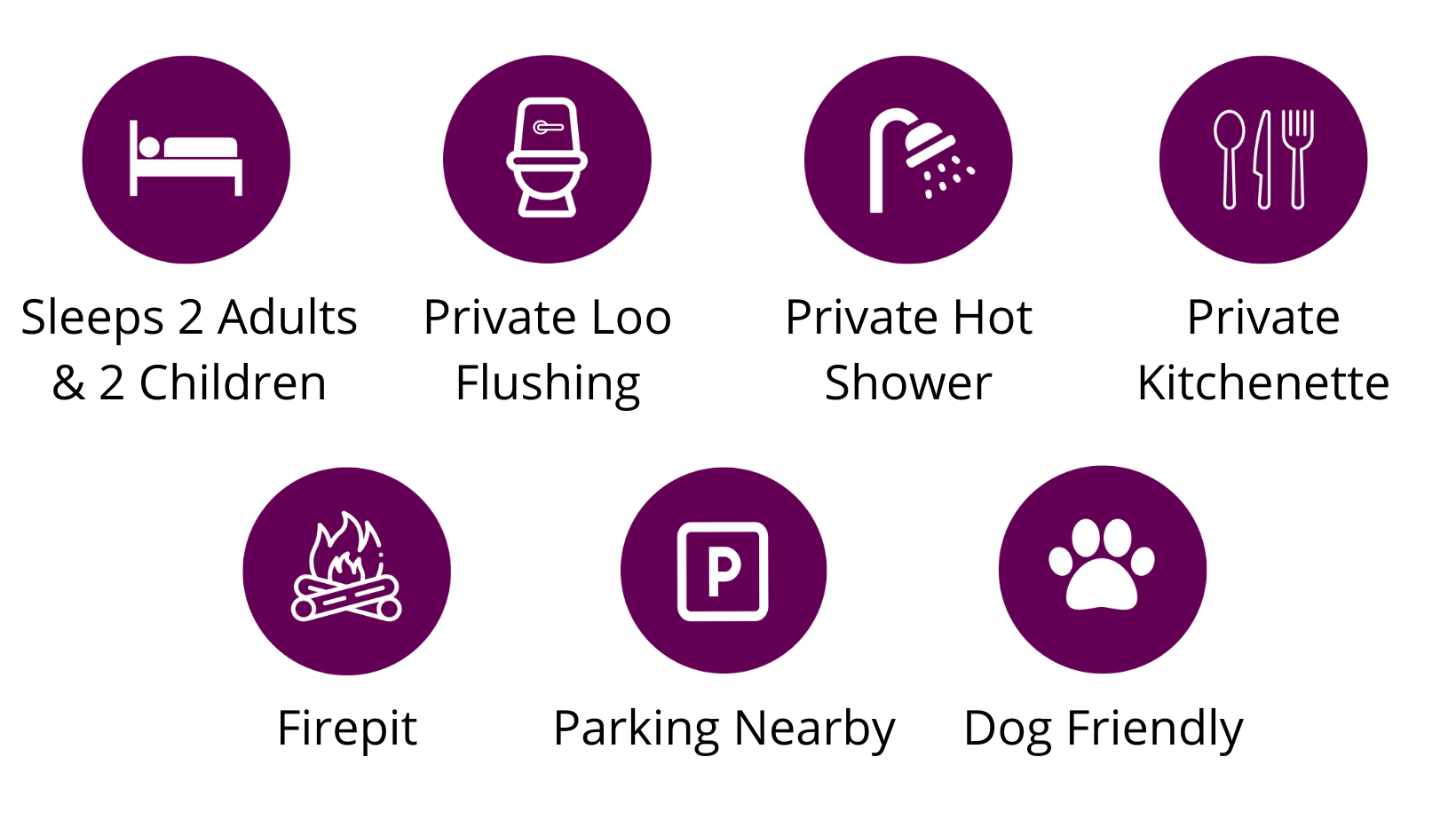 For easy family glamping in Snowdonia National Park and for couples who prefer a few mod cons, Empress is cosy and stylish with en suite facilities – great self catering accommodation for walkers, mountain bikers, trail runners.
Features
• En suite shower and flushing loo • Sleeps up to 4 • Electric light and heating • USB charger • Parking nearby • Fire pit and fairy lights • One dog or 2 smaller dogs welcome
Enjoy our fantastic location from the comfort of Empress, our only en suite wagon!
What's Inside?
The larger of our two new Quarry Wagons, Empress can sleep 4 in a standard size double bed and 2 optional 6ft 1″ bunk beds/seating area. The small en suite shower room is heated and also has a wash basin and flushing loo.
The wagon is fully insulated with an infrared heater for instant warmth at the flick of a switch.  There's electric lighting and a USB charge point. Because sometimes you need to stay connected, there's 4G on site and free wifi near reception
You can whip up simple meals in the kitchenette with a gas hob, sink and cool box inside the wagon . Cooking implements and crockery are provided. There's also use of a fridge freezer close at hand.  Four people can sit around a dining table over which the double bed simply pulls down at bedtime.
Just bring your own bedding/sleeping bags and towels.
Please note the top bunk is not suitable for children aged 6 years or under.
You can park one vehicle right by the wagon so it's easy to get settled in with your luggage.
Order takeaway croissants and barista coffee for breakfast then sit back and relax around your fire-pit with a chilled craft beer from our shop!
Home-built with local timber
During the winter lockdown of 2021 we built the wagons from scratch to our own design, just as we did with Jones, our shepherd's hut. The wagons are clad with rosy Douglas Fir timber produced locally and ecologically in the Esgair Forest. The forest is part of the UNESCO Dyfi Biosphere Reserve, which supports sustainable livelihoods based on healthy environments. The wagon's sleek interior is made from sustainable birch plywood, giving it a light and airy modern feel.
You can see pictures of how we built it here.
Outdoor space
There is a private seating area with fairy lights right outside the wagon. We are in the Snowdonia Dark Skies Reserve so it's perfect for sitting at the picnic table and star-gazing around the fire bowl – and of course toasting marshmallows! Children can find freedom to explore (under supervision) in our adjacent 40 odd acres of wild woods and fields.
Location
The two new quarry wagons, Empress and
Small Duchess
, are less secluded than our yurts and shepherd's hut, located on the small camper van area of our camp site. You'll have a few neighbours in up to half a dozen camper vans/caravans (less in winter) but our site is very quiet, laid back and friendly. Empress Wagon is tucked away in the corner, sheltered by trees. So although views are limited, you only have a few steps to walk to the shared seating area by our breathtaking viewpoint.
If you're happy being a little less secluded with more in the way of home comforts, you'll enjoy a stay in Empress whatever the weather. However If you'd rather be away from everyone and off grid, then you might like to consider 
Idris yurt
or sharing the hidden glade with a few other glampers.
The setting for Graig Wen campsite is simply stunning. The views, and woods, the thoughtful extra touches like hammocks and communal camping fire spots, were lovely to discover. The campsite is brilliantly run too – extremely useful and informative custom App, freezer packs to borrow, and the morning pastries all added to the ease and enjoyment of our trip. We stayed in the Empress wagon, which us and our two kids (and dog!) absolutely loved – so well designed and cosy. Highly recommended all round!
What are quarry wagons?
Similar in design to shepherd's huts, we were inspired to call our new designs "quarry wagons" to reflect the typical Snowdonia industrial heritage of our location.
Our smart new wagons are sited where, in Victorian times, rock was brought on much more basic, open topped wagons from Ty'n y Coed slate quarry just down the road. The rock was split into roofing slates in the building which now houses our adjacent holiday cottages.
Why the names Empress and Small Duchess?
Because each of the two wagons is called after the traditional names for sizes of slate used by local Welsh quarrymen. Empress slates are the largest! Small Duchesses are a couple of sizes down.
Here at Graig Wen, when the slates were cut, wagons transported them down a steep tramway or "incline" (which you can still see running across the camping fields) Slates were loaded onto boats at a jetty on the Mawddach Estuary before being shipped off to roof the Victorian world. By the 1870's, our site was no longer in use and oak, willow and rowan trees have grown up to provide shelter and frame the mountain views.
You can see a picture of Ty'n y Coed Quarry as it is now if you click the images below. The old photos from the National Museum of Wales Collection are from other slate quarries bu they give an idea of what would have been going on at Graig Wen in the mid nineteen century.
What we provide and what you should bring
Prior to your arrival you will be emailed a link to download our new Guest App. This will enable you to self-check in and gives you all the information you need to plan your stay, from what to bring and the wifi code to the best places for coffee and cake, local walks etc.
Inside:
Proper double bed and two optional full size bunk beds (please bring your own sleeping bags/bedding and pillows)
Small en suite heated shower room with flushing loo
USB charger
Electric lighting
Infrared heater
2 ring gas cooker
Saucepans, plates, cutlery, mugs, beakers etc for 4 people
Waste bin and bin bags
Washing up sink with hot and cold water
Outside
Fridge / Freezer access
Private seating area with picnic bench
Fire pit –  logs, kindling and firelighters  for sale on site
One car parking space near wagon
What you should bring
Download your Guest App for full details
Bedding, sleeping bags, pillows etc
Towels
Access
There are a couple of steps up to Empress. There is a step up into the double bed. Those with bad back problems may not want to push the fold down bed back up, but it has a spring on it so most people find it fine. Those bringing very young children may want to bring side bars for the lower bunk which is about 1 foot off the ground. The upper bunk has side bars but we recommend this is only for use by children aged 6 years and over. you can read more access information at Graig Wen here.
Empress Prices
From £90 – £130 / night
2 night minimum bookings outside of school holidays.  Sorry no check ins on Sunday or Thursday.
School holidays and most other times, we book the wagons for 3/ 7 nights Friday to Monday and 4 / 7 nights Monday to Friday.
You can check availability, prices and book online by using the calendar on this page. We are sorry we do not offer one night stays.
Tips on searching for availability
Choose a dark green date to check in. 2 nights minimum except for peak times like school holidays when you should search for 3 or 7 nights from Friday check in or 4 or 7 nights from Monday check in. 
Would thoroughly recommend Graig Wen to anyone, the location, amenities, everything had been thought out and designed around the camper to ensure a perfect stay. We were in one of the newly renovated Quarry Wagons (The Empress) which had everything you could need, kitchenette, small toilet and shower and every inch of the space maximised with nifty storage solutions. Personal touches like treats for my dog and a personalised card really showed Sarah and John went the extra mile. The app is excellent for recommendations and answered any possible questions you could have, in Covid times it was also noted that the appropriate guidelines were being followed. The site never felt crowded at any point either. Walks along the estuary to Barmouth and Fairbourne are all easily accessed at the bottom of the hill on the site. Will be returning.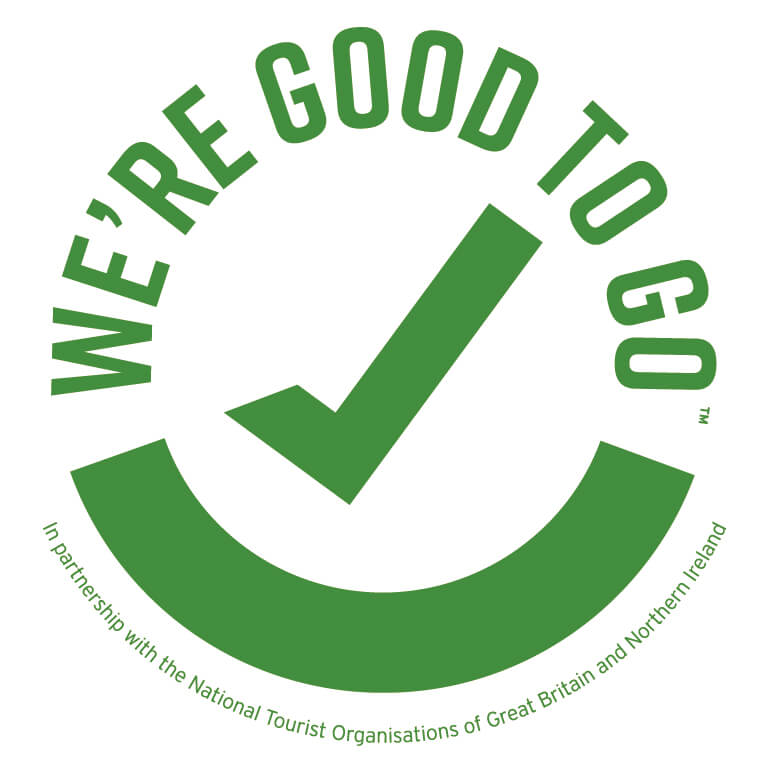 Tranquil getaway
We had a wonderful getaway in the Empress Wagon. The facilities inside the wagon were spotless and had everything we needed. The team on-site were friendly hospitable and so knowledgable about the local area. We can definitely recommend the croissants for breakfast! Walks up the Arthog waterfalls and Cadar Idris topped our week off… all completed with fantastic instructions from the Graig Wen app! Thank you Graig Wen for a much needed break away!