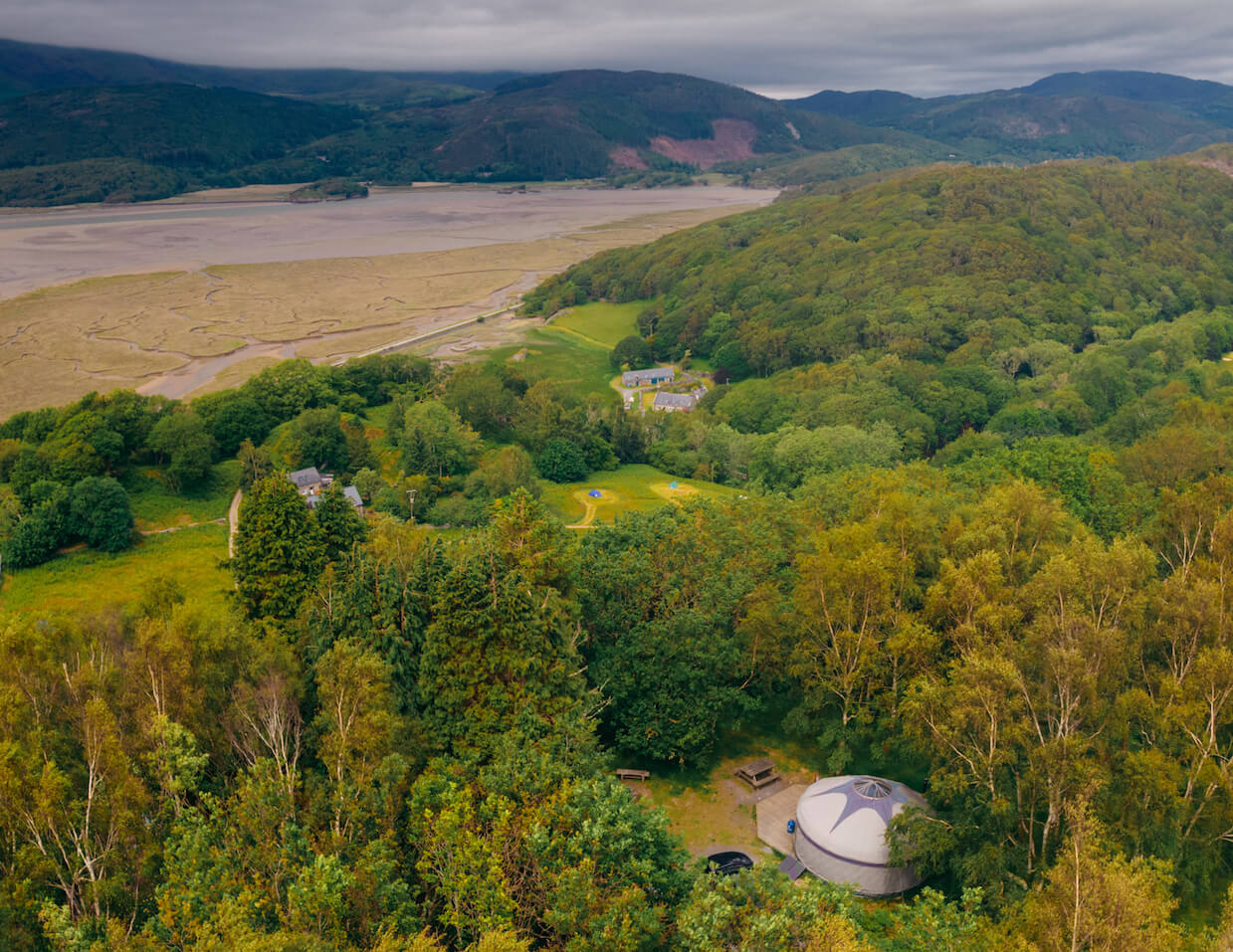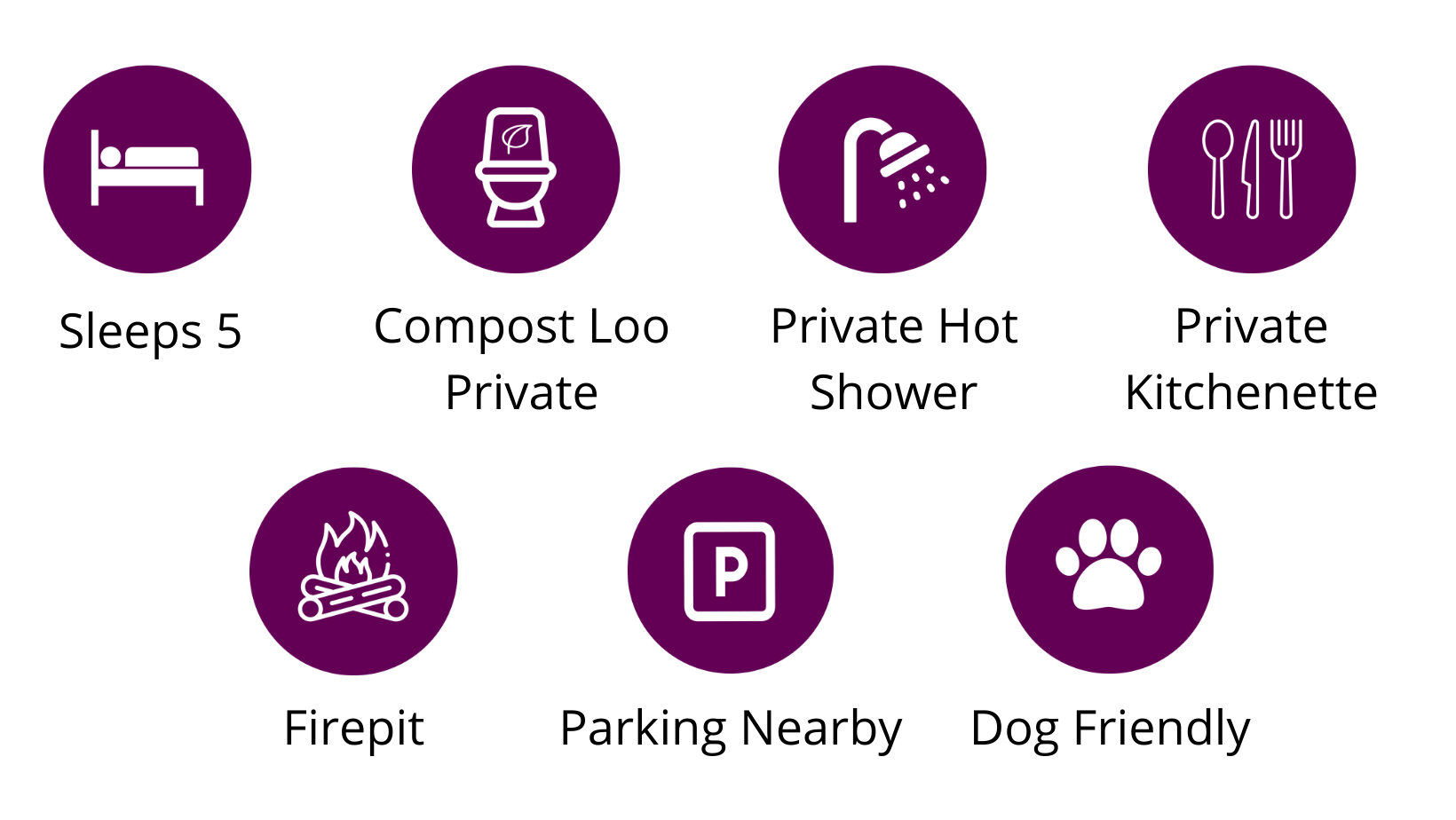 The largest of our yurts in Wales' Snowdonia National Park can sleep a family of up to 5 people and is a fantastic space for a couple. The beautiful yurt is hand crafted from our own woodland. It sits on a raised deck in an incredible location above the Mawddach Estuary for glamping holidays in North Wales.
Furnished with rugs, sheepskins and warm Welsh blankets, you can stretch out in a proper king-sized bed.  There's also two single pull out beds and a camp bed in the shared open space inside.  Spend time with your loved ones around the wood burning stove or star-gaze around the camp fire outside – we provide a basket of logs to get you going and there's more for sale on site.  You can whip up meals using the two ring camping gas stove inside the yurt and we provide a full range of cooking utensils so you don't need to worry about packing much.  A picnic bench outside is the ideal spot to enjoy a breakfast of freshly baked croissants and listen to the birdsong.
Loo and Shower
There is a private compost loo a few steps and  – new for 2022 – a hot private outdoor shower. There is also access to the hot indoor showers shared with the camp site around 150 metres away. These have plenty of mirror space and electric sockets for hair drying!
There is also access to conventional loos and wash basins about 100 metres away shared with campers on the touring camp site. 
Off grid living
The yurts are off grid, so there is simple solar lighting and we provide a lantern.
For those who don't want to switch off completely, there is 4G phone reception for most networks (02 not good) and free wifi access near reception. We would normally offer a phone charging service in reception but due to Covid-19 Track and Trace issues,  we will only charge up battery packs so make sure you bring fully charged /solar power packs with you.
What to bring
We provide you with a full list of what we provide and tips about what to bring when you book. We ask that you bring your own bedding and towels, although if you are unable to bring these because you are travelling by public transport etc, they can be booked as an extra in advance.
Parking and safety
There's space to park one car right next to the large yurt.
Please note that last check in times for yurts is usually around 8pm – this is so you can safely settle in during daylight hours and to avoid disturbing other campers.
Parents of young children should be aware there is a steep, wooded slope near one side of the yurt and be responsible for their children's safety.
Large Yurt Prices 2022
You can check availability and prices for the large yurt by using the calendar on this page. You need to search for availability to arrive on a Friday to stay for 3 or 7 nights or Monday to stay for 4 or 7 nights. Due to demand during the school summer holidays, we are currently only offering week long stays booked from Friday to Friday – shorter breaks may be available nearer the time. We are sorry we do not offer one night stays, but can offer 2 night stays occasionally in other yurts or our quarry wagons outside of peak season.
Short break rates:
Weekends from £310 – £415 ( 4pm Friday to 10am Monday – you can stay 2 or 3 nights for this price)
Midweek Break from £360 – £520 (4pm Monday to 10 am Friday – stay from 2 – 4 nights for this price)
2 night breaks are occasionally available during low season / last minute from £200
Please use the online calendar to check prices and availability.
Week long holidays
Peak Week £895 (Friday to Friday mid July to early September) 
Early July week £725 (Monday or Friday changeover)
May/June week £650 (Monday or Friday changeover)
Tips for searching for availability
To meet minimum stay requirements, please search for 3 nights from Friday check in or 4 nights from Monday check in.
Friday check ins for week long bookings only during school summer holidays.
Monday or Friday check ins for week long bookings outside peak season. For shorter stays off peak/last minute please check Late Deals/call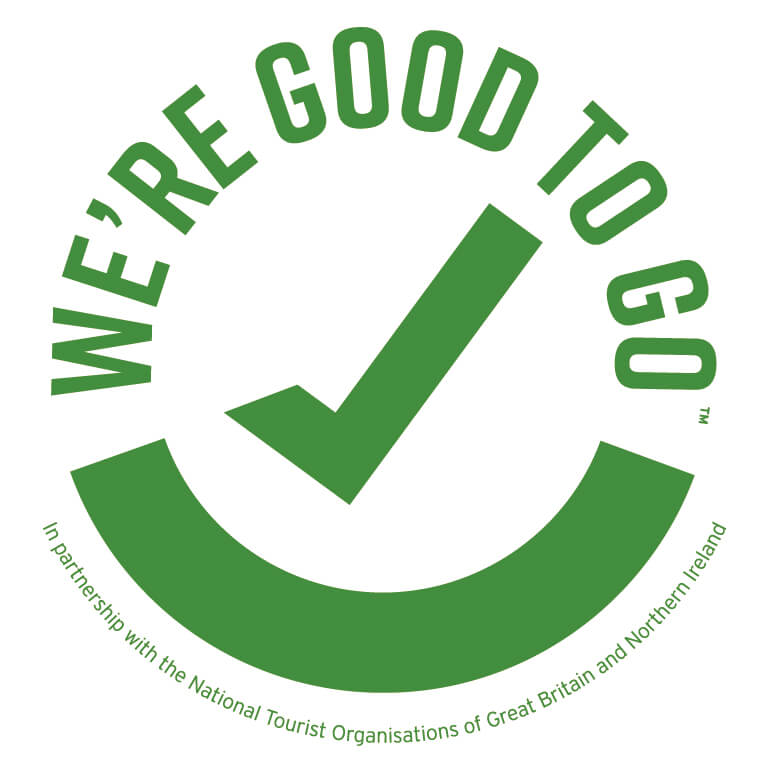 "We booked up for this year on our way home from last year. That's how impressed we were. The yurts are awesome. The setting is perfect and the campfire area is the cherry on top. The setting is breathtaking, with mountains lakes and the sea what's not to admire. Love north Wales and we can't wait to book again for next year."